Japanese Prehistory
by Arvarhea Luvena Keneisha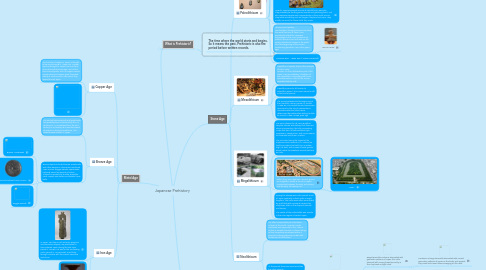 1. Stone Age
1.1. Paleolithicum
1.1.1. Polished stone tools of the Palaeolithic period (Hinatabayashi B-site, Shinanomachi, Nagano).
1.1.2. THE JAPANESE PALEOLITHIC PERIOD IS THE PERIOD OF HUMAN INHABITATION IN JAPAN PREDATING THE DEVELOPMENT OF POTTERY, GENERALLY BEFORE 10,000 BC.
1.1.3. Paleoanthropology
1.1.4. How do Japanese people survive at Paleolithicum periods? They probably be hunting some animals and gathering food. And also Japanese people work cooperatively so they could survive. They build something such as hangers, fireplace and more. They mostly use wood for those stuffs they made.
1.1.5. Jōmon period pottery..... Land bridges, during glacial periods when the world sea level is lower, have periodically linked the Japanese archipelago to the Asian continent via Sakhalin Island in the north and via the Ryukyu Islands and Taiwan in the south since the beginning of the current Quaternary glaciation 2.58 million years ago.
1.1.5.1. Jomon Period
1.1.6. 12,000 BC - 800 BC (Time Period)
1.2. Mesolithicum
1.2.1. Mesolithic of Kyushu, there is the example of Fukui Cave Horizon 3 in the northwestern part of the island. Here microblades, a tradition of the Palaeolithic, and pottery with linear relief decoration, a trait of the Jomon, coexisted side by side.
1.2.2. Mesolithic period is still similar to Paleolithic period. The Jomon Period is still in this kind of period.
1.2.3. The period extended to the beginning of the Mesolithic Jōmon period, or around 14,000 BC, The earliest human bones were discovered in the city of Hamamatsu in Shizuoka Prefecture, which were determined by Radiocarbon dating to date to around 14,000–18,000 years ago.
1.3. Megalithicum
1.3.1. The area is known for its many Buddhist temples, shrines and statuary, but there are stone monuments in the hills surrounding Asuka that don't fit with Buddhist style sculpture or construction, and no one seems to know who built them, or when. The rock ship, being the largest of the mysterious rock mounds, is 11 meters (36 feet) by 8 meters (26 feet), by 4.5 meters high (15 feet), and is made of solid granite, which makes it somewhere around 800 tons as it sits.
1.3.2. Kofun (from Sino-Japanese "ancient grave") are megalithic tombs or tumuli in Japan, constructed between the early 3rd century and the early 7th century AD.
1.3.2.1. Now...
1.3.3. During the subsequent Kofun period, most of Japan gradually unified under a single kingdom. The kofun were often surrounded by and filled with numerous haniwa clay sculptures, often in the shape of warriors and horses. The center of the unified state was Yamato in the Kinai region of central Japan.
1.4. Neolithicum
1.4.1. It is often compared to pre-Columbian cultures of the North American Pacific Northwest and especially to the Valdivia culture in Ecuador because in these settings cultural complexity developed within a primarily hunting-gathering context with limited use of horticulture.
1.4.2. At this period, there are more tools than the other periods....
1.4.2.1. Large beige terracotta container with incised decor and geometric spirals applied in fine cords of clay on a background of ropes.
1.4.2.1.1. Beige terracotta container decorated with geometric patterns of ropes, the collar adorned with a wavy frieze formed by a thin clay bead in slight relief.
1.4.2.1.2. Large container in gray beige terracotta, decorated on the body with incised onguiform motifs.
2. Metal Age
2.1. Copper Age
2.1.1. The first use of copper in Japan is thought to be around 300 B.C. (Yayoi era). Copper was first brought to Japan from mainland China during the bronze age, and at that time bronze goods, such as copper swords, copper pikes and copper glass flourished mainly in North Kyushu, after which they spread to East Japan.
2.1.2. .
2.2. Bronze Age
2.2.1. The earliest bronze swords and spearheads had probably been introduced by the 1st century B.C. An arrowhead from the 2nd century or 3rd century B.C was discovered at Imakura, Fukushima prefecture...the oldest bronze artefact in Japan.
2.2.2. Bronze objects included bronze arrowheads and other weapons, Chinese and northeast Asian mirrors, dagger-swords, spearheads, halberds, sword ornaments, shuriken -shaped ornaments for shields, bracelets, coins, vessels and dotaku and bataku horse bells.
2.2.2.1. Bronze Arrowheads
2.2.2.2. Chinese and northeast Asian Mirrors
2.2.2.2.1. And More...
2.2.2.3. Dagger-Swords
2.3. Iron Age
2.3.1. In Japan, iron items, such as tools, weapons, and decorative objects, are postulated to have entered Japan during the late Yayoi period (c. 300 BC-AD 300) or the succeeding Kofun period (c. AD 250-538), most likely through contacts with the Korean Peninsula and China.
2.3.2. Yayoi Period
3. What is Prehistoric?
3.1. The time where the world starts and begins. So it means the past. Prehistoric is also the period before written records.
4. How did the people live in this period..
4.1. Virtually unused wisdom teeth are partial evidence of a life-expectancy of about 30 years." He lived sometime between 7500 and 5000 B.C., when Japan's population was probably around 22,000. Jomon culture was not new even then. Its defining innovation, pottery, was already thousands of years old.