COURTS AND JURISDICTION
by Victoria Ezeufo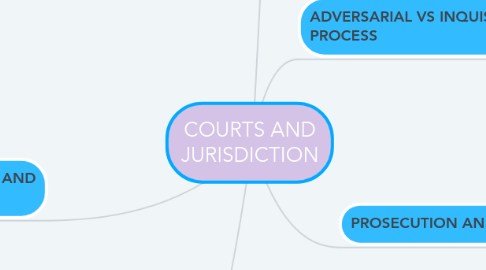 1. ADVERSARIAL VS INQUISTORIAL PROCESS
1.1. ADVERSARIAL PROCESS: A COURT PROCESS IN WHICH LAWYERS REPRESENT THIER CLIENTS' BEST INTEREST IN PRESENTING EVIDENCE TO PROTECT THEM
1.2. INQUISTORIAL PROCESS: A COURT PROCESS IN WHICH THE JUDGE TAKES AN ACTIVE ROLE IN INVESTIGATING THE CASE AND EXAMINING EVIDENCE
2. PROSECUTION AND DEFENSE
2.1. PROSECUTION
2.1.1. TYPES: LOCAL PROSECUTION ATTORNEYS, STATE ATTORNEY GENERAL, U.S. ATTORNEYS
2.1.2. ROLES: TRIAL COUNSEL FOR POLICE, HOUSE COUNSEL FOR POLICE, REPRESENTATIVE OF COURT, ELECTED OFFICIAL
2.2. DEFENSE
2.2.1. PRIVATE ATTORNEY
2.2.2. INDIGENT DEFENSE
2.2.2.1. ASSIGNED, CONTRACT, PUBLIC
3. PLEA, TRIAL, AND APPEAL
3.1. THE PLEA
3.1.1. PLEAS WITH BARGAINING
3.1.1.1. NEGOTIATION PROCESS
3.1.1.2. THREAT OF JURY TRIAL
3.1.1.3. DELAY
3.1.2. PLEAS WITHOUT BARGAINING
3.1.2.1. "IMPLICIT PLEA BARGAINING"
3.1.2.2. EVIDENCE IS STRONG
3.1.2.3. NO QUESTION OF FACT
3.1.2.4. AGREEMENT ON APPROPRIATE CHARGE, EVIDENCE, AND PUNISHMENT
3.1.3. LEGAL ISSUES
3.1.3.1. BOYKIN FORM: A CHECKLIST TO ENSURE ALL STEPS AND ACKNOWLEDGE WHAT PLEAING GUILTY TO
3.1.3.2. ALFORD PLEA: TAKING THE PUNIHSMNET BUT NOT ADMITTING TO THE CRIME
3.2. THE TRIAL
3.2.1. BENCH TRIAL OR JURY TRIAL
3.2.2. JURY SELECTION PROCESS: POOL OF CITIZEMS FILL OUT QUESTIONAIRE, PANEL OF 30, NARROWED TO 14 (12 JURY MEMBERS, 2 ALTERNATES)
3.2.3. TRIAL PROCESS: JURY SELECTION, OPENING STATEMENT, EVIDENCE, REBUTTAL, CLOSING ARGUMENTS, INSTRUCTIONS TO JURY, DELIBERATION, DECISION
3.3. THE APPEAL
3.3.1. STATES DECIDE MAJORITY OF APPEALS
4. TYPES OF JURISDICTION AND COURTS
4.1. TYPES OF JURISDICTIONS
4.1.1. GENERAL: WIDE VARIETY OF OFFENSES
4.1.2. LIMITED: SPECIFIC TYPES OF CASES
4.1.3. ORIGINAL: TRIAL COURTS/ REGIONAL COURTS
4.1.4. APPELLETE: GET A RESULT OF A CASE OVERTURNED
4.2. TYPES OF PROBLEM SOLVING COURTS
4.2.1. DRUG COURT
4.2.2. VETERANS COURT
4.2.3. MENTAL HEALTH COURT
4.2.4. DOMESTIC VIOLENCE COURT
5. BEING A JUDGE
5.1. FUNCTIONS OF A JUDGE
5.1.1. ADJUDICATOR: MAKES DECISIONS IN TOUGH SITUATIONS
5.1.2. NEGOTIATOR: TALK TO PROSECUTION AND DEFENSE ATTORNEYS IN PRIVATE TO WORK OUT A GUILTY PLEA OR AGREE TO PROCEED DIFFERENTLY
5.1.3. ADMINISTRATOR: TO MANAGE AND LEAD THE COURTHOUSE
5.2. 5 METHODS TO BECOME STATE TRIAL JUDGE:
5.2.1. PARTISAN ELECTION: ELECTION WHICH CANDIDATES ARE PRESENTED TO VOTERS FOR SELECTIONS
5.2.2. NONPARTISAN ELECTION: ELECTION WHEN CANDIDATES ARE NOT LISTED ON BALLOT
5.2.3. GUBERNATOTIAL APPOINTMENT
5.2.4. LEGISLATIVE SELECTION
5.2.5. MERIT SELECTION
5.3. USUALLY LAYWERS BECOME JUDGES.