STORAGE
by Nur Hasanah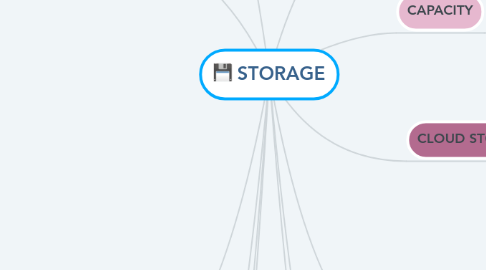 1. STORAGE DEVICE
1.1. Hardware that records and/or retrives item to and from storage media
2. CAPACITY
2.1. The number of bytes of a storage medium can hold (e.g KB, MB, GB)
3. CONTENTS OF STORAGE
3.1. NON-VOLATILE
3.1.1. The contents remain when the power supply is removed.
4. HARD DISC DRIVE (HDD)
4.1. Use magnetic particles to store data, instructions and informations
4.2. enclosed inside an airtight, sealed case
4.3. The storage capacity can be determined by:
4.3.1. Number of platters of the hard disk
4.3.2. The composition of the magnetic coating on the platters
4.3.3. Whether the disk uses longitudinal or perpendicular recording
4.3.4. Density
4.4. Characterstics of hard disk:
4.4.1. Tracks
4.4.2. Sectors
4.4.3. Platters
4.4.4. Form factor
4.4.5. Read/write head
4.4.6. Revolutions per minute
5. SOLID STATE DRIVE (SSD)
5.1. A flash memory storage device that contains its own processor to manage its storage
5.2. Advantages
5.2.1. Faster time access
5.2.2. Faster transfer rates
5.2.3. Quieter operations
5.2.4. More durable
5.2.5. Lighter weight
5.2.6. Less power consumption
5.2.7. Less heat generation
5.2.8. Longer life
5.2.9. Defragmentation not required
5.3. External Hard Drive
5.3.1. A separate freestanding storage device that connects with a cable to a USB port or another port on a computer or mobile device
5.4. Memory Card
5.4.1. A removable flash memory storage device that you insert and remove from a slot in a computer, mobile device or card reader
6. CLOUD STORAGE
6.1. Internet service that provides storage to computer or mobile device users
7. OPTICAL DISC
7.1. Consists of a flat, round, portable disc made of metal, plastic and lacquer that is written and read by a laser
7.2. Commonly store items in a single track that spirals from the center of the disc to the edge of the disc
7.3. Track is divided into evenly sized sectors
8. ENTERPRISE STORAGE
8.1. Enterprise hardware allows large organizations to manage and store data and information using devices intended for heavy use, maximum efficiency and maximum availability
8.2. Network Attached Storage (NAS) is a server that is placed on a network with the sole purpose of providing storage to users, computers and devices attached to the network
8.3. Storage Area Network (SAN) is a high-speed network with the sole purpose of providing storage to other attached servers
8.4. Tape is a magnetically coated ribbon of plastic capable of storing large amounts of data and information. A tape drive reads and and writes data and information on a magnetic tape
9. MAGNETIC STRIPE CARD
9.1. Has a magnetic stripe that contains information
10. SMART CARD
10.1. Stores data on an integrated circuit embedded in the card
11. RIFD TAG
11.1. Consists an antenna and a memory chip that contains the information to be transmitted via radio waves.
11.2. Reads the radio signals and transfers the information to a computer or computing device
12. NFC TAG
12.1. An NFC-enabled device contains an NFC chip
12.2. An NFC tag contains a chip and an antenna that contains information to be transmitted
12.3. Most NFC tags are self-adhesive