Social Media Framework http://goforlaunch.io
by
Brandon Uttley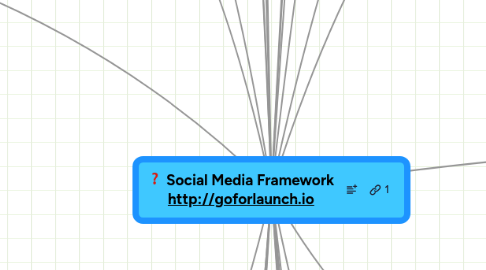 4.7
stars -
85
reviews range from
0
to
5
Copyright 2008-2013 Brandon Uttley. All Rights Reserved. For more information, visit http://www.brandonuttley.com.
Social Media Monitoring
Blogs
Twitter
Social Media-General
Videos
Facebook
Social Communities
Facebook is a popular, free-access social networking website that is operated and privately owned by Facebook, Inc. Users can join networks organized by city, workplace, school and region.
Others
Your Own!
Social Bookmarking Sites
The leading web-based tool to bookmark and share web links.
Faves.com's free website delivers recommendations personalized to each user's topics and people of interest.
StumbleUpon is an Internet community that allows its users to discover and rate Web pages, photos, and videos. It is a personalized recommendation engine that uses peer and social-networking principles.
Article Submissions
Submit to multiple bookmarking sites from one place.
"Sharing" tools for your site:
All-in-one automatic submission site.
Sphere is a social bookmarking service owned by AOL. Sphere connects your current articles to contextually relevant content from your archives as well as from blog posts, media articles, video, photos and ads from across the Web.
Content Sharing Sites
Text/Slideshows
The goal is to use "authority" websites to create compelling content that you can interlink with keyword rich pages in your site (ideally deep-linked pages vs. your home page).
Audio Sites
Image Sharing Sites
Music Sharing
Sales/Marketing Content
Private Sharing
Blog Commenting
Tools for Commenting
Promotion (Other)
Events
With FriendFeed, you list the people you want to keep in touch with. They let us know what services they use (e.g., Flickr or Facebook or Picasa Web Albums), and you get a personalized feed of what...
Main Website
Key ingredients
Subdomains
Microsites
Secondary Sites
Blog
Forum
Wiki
Advertising
Affiliates
Other Networks
Pay-Per-Click Ads
Teaching
Screencasts
Webinars
Email Marketing
HTML Email System
Live Casting
Audio
Video
Online Chat
Hybrid Sites
Analytics
Clickthrough Tracking
Email Tracking
Google Analytics
Keywords Tracking
Polls/Surveys
PollDaddy is an online tool, which allows you to create free polls and place them on your website, blog or anywhere online that you can paste a bit of JavaScript or Flash.
A place to gather and rate ideas. Open source and paid versions.
Widgets
Clearspring is the leading provider of cross-platform widget services
Gigya is a social marketing solutions company delivering scale and results to publishers and advertisers
Gydget provides a social marketing platform that allows music groups, sports teams, non-profits and other organizations to reach their audiences using widgets.
Pluck On Demand is a  self-serve product that adds contextually relevant content and social media to your site, increasing pageviews and user engagement while allowing you incremental revenue from their ad network.
Sprout is a quick and easy way for anyone to build, publish and manage widgets, mini-sites, mashups, banners and more.
Widgetbox enables people to find, make and distribute web widgets for blogging, social networking services, and personal websites.
Social Q&A
Answerbag is a collaborative online database of FAQs, where questions are asked and answered by users
Yahoo! Answers is a community-driven knowledge website that allows users to both submit questions to be answered and answer asked questions from other users.
Location Sharing
Brightkite
Brightkite is a mobile location-based social network. Brightkite enables people to connect with the communities surrounding physical locations.
Foursquare is a location-based social networking website, software for mobile devices and a game. Users "check-in" at venues using text messaging or a device specific application. Great for leaving "tips" at key locations.
Loopt is a company based in Mountain View, California. It provides a cellphone-based GPS sharing system that allows users to visualize one another using their cell phones and share information. Loopt...
Microblogs
Plurk is a free social networking and micro-blogging service that allows users to send updates (otherwise known as plurks) through short messages or links, which can be up to 140 text characters.
Miscellaneous Tools
KnowEm checks the availability of your brand name, user name or vanity URL on 120 popular Social Media websites.
Check the availability of usernames at dozens of social sites.
Update multiple sites by emailing content to Posterous.
Acquired Ping.fm which allows you to post to multiple networks at the same time.
Social Media Dashboards
HootSuite is a Twitter web application. It interfaces with the Twitter API to send, receive and schedule tweets. It also incorporates Facebook & LinkedIn accounts.
Sprout Social
Social Influencers/Discovery
Customer Service
Social Scoring
Social Content Distribution
Send RSS/blog feeds to Facebook, LinkedIn and Twitter
Scoop.it
Social CRM
Company Intelligence
APIs