How does working with peer mentors impact the development of social skills in 6th grade special education students?
by Anabel Stelmaszek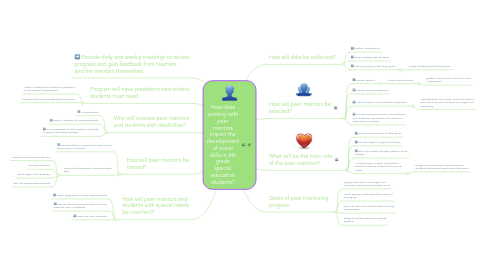 1. Provide daily and weekly meetings to review progress and gain feedback from teachers and the mentors themselves
2. Program will have predetermined criteria students must meet
2.1. Obtain consent from parents or guardians to be allowed to participate
2.2. Students will have checklist they must meet
3. How will data be collected?
3.1. teacher observations
3.2. daily meetings with students
3.3. Setting long term and daily goals
3.3.1. Mentor feedback and observations
4. Who will oversee peer mentors and students with disabilities?
4.1. Administrators
4.2. Team of teachers to oversee students
4.3. ELITE personnel to help support and guide in general education settings
5. How will peer mentors be selected?
5.1. student reports
5.1.1. School performance
5.1.1.1. grades, scores, extra school curricula involvement,
5.2. Teacher recommendations
5.3. Administration recommendation/approval
5.3.1. Administration will review recommendations and criteria to see if students are eligible for mentoring
5.4. Provide both peer mentors and students with disabilities guidelines and criteria to work with one another
6. What will be the main role of the peer mentors?
6.1. To provide reminders of daily goals
6.2. Provide support in general settings
6.3. Be a role model and peer guide in social settings
6.4. 4 Display open-minded and positive attitudes towards students with special needs
6.4.1. bridge communication opportunities for students with special needs and other peers
7. How will peer mentors be trained?
7.1. Train students for a specific length of time when school first starts
7.2. Train with interpersonal communication skills
7.2.1. Identify communication barriers
7.2.2. Be active listeners
7.2.3. Build rapport and empathy
7.2.4. help ask appropriate questions
8. How will peer mentors and students with special needs be matched?
8.1. match by gender or similar demographics
8.2. take an interest survey to match in similar interests, likes, or hobbies
8.3. match by class schedules
9. Goals of peer mentoring program
9.1. engage learners in meaningful and productive experiences (Bradley 2016)
9.2. create spaces of learning with a sense of belonging
9.3. promote schools as collaborative learning communities
9.4. students collaborating and working together