Personalium
by
Vaclav Lorenc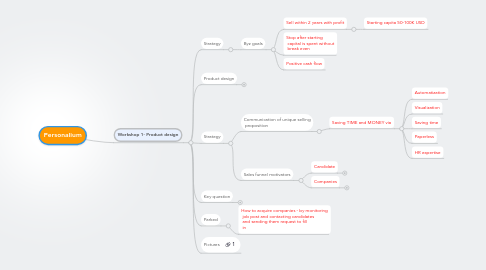 0.0
stars - reviews range from
0
to
5
Personalium
Workshop 1- Product design
Strategy
Byz goals, Sell within 2 years with profit, Starting capita 50-100K USD, Stop after starting capital is spent without break even, Positive cash flow
Product design
Experience, Ecosystem, Segments, Company, HR, Manager, Candidates, Product, Other subjects, Experience points TODAY and FUTURE, John Doe HR, Functional, Quality, Freshness of the candiate because video is taken recently, Scoring, Inputs, Test + Video, Email quality check, CV quality check, Carreer check, Social capital, LinkedIn, Twitter, LCA, Ability to compute unstructured input, Algorithm of scoring, Number that represents quality of scoring, Automatize, Test + Questions, Soft skills, Scenarios, Open questions, Hard skills, Qualification questions, Guestimates, Standardized test, TOEFL, Myers Briggs, General+ industry+ job specific, LCA, Academics, Known HR experts, Design, Review process enabling more people to review, Report, Sexy picture easy to understand, Personalized with faces of candidates, Easy to review by human input, Functionality, HR Academy, Basic HR knowledge (hints, guidelines), Blog, News, Links to HR experts, Access, Admin, Reviewer - manager, Read only, Process, Purchase, Service, Relationship, Brand, Loyalty program, Candidate, Functional, Quality, Design, Functionality, Candidate Academy, How to apply, How to use Personalium, Blind test, Process, Purchase, Service, Relationship, Brand, Loyalty program, Product alternatives, Manual process, Presort, Skim monster profile, Read and evaluate email, Delete, Closer review, Read CV, Check social background, Ask for references, Personal interview, Invite and schedule, Personal interview 1st round, Write report, Invite other reviewers, Personal interview 2nd round, Write report, Decide, Good bye email, Long term competitive advantage, Scoring, Test, Structured academy available in system, Report, Market share, Start with guerilla and find the first job post and get people and offer to firm, Product line, Candidates, Free, Paid, Additional purchases, Companies, Paid, Additional purchases
Price, Price structure, Candidates, Points, Expert feedback, Test, Metrics, Innovative metrics must be aligned by unique selling proposition, Level, HR, Points, Expert feedback, Metrics, Number of positions, Number of candidates, Number of test and questions, Add purchase, Level, To be defined later, Revenue sources, Candidates, Main functionality, Companies, Main functionality, Evangelization of the market, Data about market, Freemium/Dreamium concept check, Minimalist version, To be defined later, Maximal version
Strategy
Communication of unique selling proposition, Saving TIME and MONEY via, Automatization, Visualization, Saving time, Paperless, HR expertise
Sales funnel motivators, Candidate, Aware, PR activity, Guerilla, Try, Faked add, We have job for you, Message, You can see yourself, You can try it for free, You let your friends to evaluate you, Testimonials, Message We increase your chance to be hired, Offer of attractive jobs for masses, Free, Offer as part of personal agency, Pay, Add ins, Trial, Experts will evaluate, Pay by social capital button, Facebook, LinkedIn group, Twitter, Pay by time, Feedback, Testimonial, Questionnaire answers, Review another candidate, Love, Companies, Aware, Guerilla, PR activities, Speeches, Video on internet, HR coach, HR consulting company can show this as a new trend, Try, Success story, Quantification, Industry specific test, HR Academy, Right industry choice, Visual experience needed, Assistant, Sophisticated sales, Big machines, Assistant in corporate banking, Sales managers, Front desk in Banking, Creative, Group managers approval needed, Unique skills where candidates are spread over the world, MBA courses, Universities, Research, Pay, Job based limited trial, Additional purchases, Love, Tailored customization
Key question
1 Prodavat za (mesicni/rocni) predplatne nebo za jednotlive uziti (kredit)?, + Freemium nebo trial? Tj. zda mit nejakou "navzdy zdarma" verzi?, Segments, Employees, Freemium, Trial, Companies, Trial, (Osobne mi prijde tezsi konvertovat free->paid nez trial->paid.)
2 Mit jednu "maximalni" verzi (all inclusive) pro prodej za pohovor (od kusu),, nebo vice funkcne a cenove odstupnovanych verzi pro mesicni predplatne, Differentiate, Employees, Freemium, Paid, Company, Based on highest value feature, a cim je pripadne navzajem odlisit?
3 Na jaky segment zakazniku se zamerit - jak vertikalne tak horizontalne?, (Vertikalne: od "zivnostnika", pres SMB, univerzity az po korporace., Segments, Prioritize based on, Potential, HR automatization Readiness, Horizontalne: jednotlive obory firem: napr. ITC, Med/Pharme, Utilities ap.)
4 Delat jednoucelovy, uzeji zamereny nastroj jen na videopohovory,, nebo sirsi nastroj na reseni celeho procesu vyberoveho rizeni, vcetne znalostnich, Core experience points, Start with core part of the process then build next version, Prioritize based on, Value addition from research, Effort to implement, testu, ohodnoceni uchazecu podle kvality doslych emailu, automatizovanych, odpovedi podle sablon ap. ?
5 Do jake miry prizpusobovat produkt na miru firmam - viz zda jit cestou, 37signals (tj. produkt definuje vyrobce - kdyz nas prerostes kup si neco vetsiho),, Automatize first, Potentially upsell adjustments, nebo uprav na miru (zakaznik je nas pan).
6 Kde a pres koho prodavat?, Zamerit se jen na USA a delat sami, nebo jit do dalsich zemi (napr. Norsko, Svedsko), Segments, Country choice, Potential, HR automatize readiness, Employee, Company, Industry, HR automatize readiness, Employee, Company, Prepare affiliate program and charge for usage e.g. Itunes like 30% for use, a hledat a prodavat pres resellery/affiliate?
Parked
How to acquire companies - by monitoring job post and contacting candidates and sending them request to fill in
Pictures