Ideas of how to help International students to overcome struggling in pressure at universities
by Hantao Shao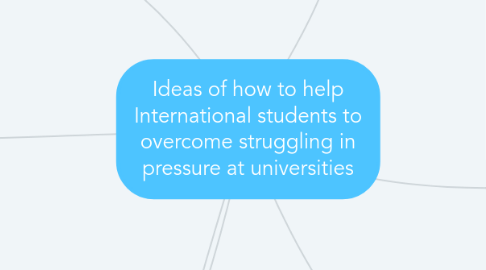 1. Diane Schmitt "Too much responsibility is laid at the door of English language proficiency tests." He thinks that the most international students lack of other abilities but not English skills. The international students' culture background, ways of thinking are so different and they do not understand what they're doing.
2. James Bradshaw: The culture and education are so different that international students always confusing, even through they pass the admissions of English. English just count too much that universities did not understand the interact of previous education culture and English proficiency. The number percentage of international students accused was much more higher than domestic students, culture difference is some how related with academic integrity. Schools should focus on helping international students with culture difference.
3. Harriet Swain: international students fail to adapt their approaches to learning and so their performance declines in the later years of a degree when the complexity of the work increases.
4. Thushari Welikala: universities should help international students get used to the western(alternative) ways of learning. "Rather than meeting the needs of the overseas students, universities are keen to create "international pedagogies and curricula" to help the international students to be like the home students."
5. Ruth Stokes: School should pay more attention on international students of how their feel and think. Universities are trying to help international students feel at home. Schools need trying to help international students settle in the new culture by some different ways.
6. Elizabeth Redden: Universities should guide international students to have high sense of belonging in universities. They can also help and encourage international students to have more interaction with domestic students. So they can get more adapt in the new culture and environments
7. Me: Universities should guide international students to adapt and get used to the new culture rather than just let them start the new life in universities. Universities should guide them to understand the ideology in the new culture and change their way of thinking problems.