Challenge museum visit experience for teachers thanks to gaming.
by Andréa Laporte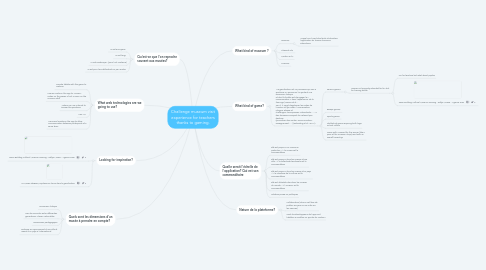 1. What kind of museum ?
1.1. Science?
1.1.1. Auquel cas il peut être facile d'introduire l'application au travers d'oeuvres interactives
1.2. Classical art?
1.3. Modern art ?
1.4. Cinema?
2. What kind of game?
2.1. "La gamification est un processus qui vise à améliorer un service en lui ajoutant une dimension ludique et dont la finalité est d'engager le « consommateur » dans l'expérience, de le faire agir (Hamari et al., 2014). Il s'agit d'appliquer les codes de l'univers du jeu vidéo – scénarisation, intrigue, étapes et challenges, récompenses, interactivité, …- à des domaines auxquels ils n'étaient pas destinés (promotion des ventes, communication, enseignement, …) (Deterding et al., 2011)."
2.1.1. Serious game?
2.1.1.1. Games not primarily intended for fun but for training adults.
2.1.1.1.1. OK for teachers but what about pupils?
2.1.1.1.2. Team Building Culturel Museum Gaming - Rallye Musée - Agence 2ISD
2.1.2. Escape game?
2.1.3. Sports game?
2.1.4. Intellectual game requiring both logic or/and culture
2.1.5. Game with a reward for the winner (like a price at the museum shop)? and with an overall hierarchy?
3. What web technologies are we going to use?
3.1. Provide tablets with the game to visitors?
3.2. Use QR code on the app to "screen" codes on the pieces of art, or even on the museum staff
3.3. Visitors can use Internet to answer the questions
3.4. Use AI?
3.5. Use social media on the app to allow communication between participants of a same team
4. Looking for inspiration?
4.1. Team Building Culturel Museum Gaming - Rallye Musée - Agence 2ISD
4.2. Le Musée d'Aquitaine se lance dans la gamification
5. Quels sont les dimensions d'un musée à prendre en compte?
5.1. Dimension ludique
5.2. Lieu de rencontre entre différentes générations, classe, nationalités
5.3. Dimensions pédagogique
5.4. Participe au rayonnement d'une ville et même d'un pays à l'international
6. Qu'est-ce que l'on reproche souvent aux musées?
6.1. "C'est ennuyeux"
6.2. "C'est long"
6.3. "C'est ésotérique" (pour l'art moderne)
6.4. "C'est pour les intellectuels un peu snobs"
7. Quelle serait l'échelle de l'application? Qui est son commanditaire
7.1. Elle est propre à un musée en particulier --> le musée est le commanditaire
7.2. Elle est propre à tous les musées d'une ville --> la collectivité territoriale est la commanditaire
7.3. Elle est propre à tous les musées d'un pays --> le ministère de la culture est le commanditaire
7.4. Elle est utilisable dans tous les musées du monde --> l'UNECO est le commanditaire
7.5. Initiative privée ou publique?
8. Nature de la plateforme?
8.1. Collaborative (chacun est libre de publier ses jeux ou ses infos sur les oeuvres)
8.2. Seuls les développeurs de l'app sont habilités à modifier ou ajouter du contenu