Reasons to Join the Military
by Candance Gant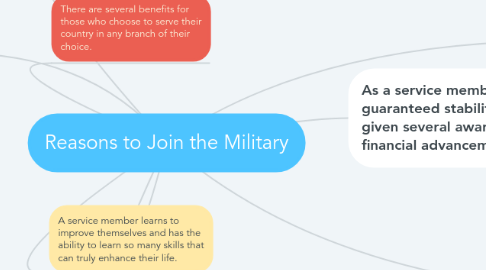 1. The service member, if unmarried, is guaranteed a place of housing to live on their place of duty; duty station. If married the service member is given a Basic Housing Allowance, which can differ from each state or city based on the state or city's average housing cost for the current year's estimations.
2. You are a government employee and a united state military service member who is guaranteed a paycheck as long as the member's contract is still active. A service member has a Base Pay that goes off the individual's pay grade/rank.
3. As an active duty service member, healthcare is free. If the active duty service member has dependents, then the medical care is at an all time low cost for full coverage. If the service member retires from their duty with a minimum of 20 years, the member as well as their dependents are eligible for full coverage health insurance through Tricare for a extremely low cost for the rest of the service members life, spouse's life, while marries, and their kids until they are 26 if in college or else it end at age 21.
4. All branches of the military offer a tremendous array of education benefits that can be used while on active duty or after you complete you contract of service. For example, one huge benefit offered to service members and veterans is the GI Bill or Post 9/11 Bill, which pays up too 100% of their college education.
5. From the start of a service member's contract, they learn discipline, respect, loyalty, honor, courage, and so many qualities that can enhance their own lives. You are molded into a patriotic American citizen and military serve and protect solider for your country.
6. A service member has so many choices in what career field that the member would like to choose from. As a solider you not only learn you main service job but you also learn so many skills also as a United Stated solider. For example, how to shoot a weapon, detect enemy engagement, and learn what true honor, loyalty, and respect is throughout the member's career.
7. As a service member you are guaranteed stability and given several awards of financial advancements.
8. A service member learns to improve themselves and has the ability to learn so many skills that can truly enhance their life.
9. There are several benefits for those who choose to serve their country in any branch of their choice.