Micaela Villa Operating Systems
by
Micaela Villa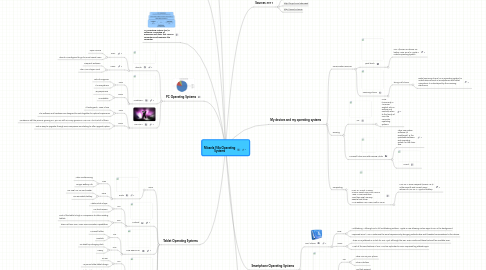 0.0
stars -
0
reviews range from
0
to
5
Sources 2011
use tinyurl or bit.ly to list your links
http://tinyurl.com/3bmo86d
http://amzn.to/qjg75j
Smartphone Operating Systems
Pros:, Multitasking – although not a full multitasking solution, Apple is now allowing certain apps to run in the background., Improved email – iOS 4 enhances the email experience by bringing unified inbox and threaded conversations to the iPhone.
Cons:, There is no jailbreak or unlock for iOS 4 yet, although the Dev Team confirmed these tools will be available soon., Most of the new features of iOS 4 can be replicated or even improved by jailbreak apps
Pro, Xbox Live on your phone, Clean Interface
Con, No flash support, Lag in launching apps
Android
Pros:, Thrid Party Apps, Wide model choice
Cons:, Bad Camera, Short Battery Life
An operating system (OS) is software, consisting of programs and data, that runs on computers and manages the computer
PC Operating Systems
Pros:, Open Source, Ubuntu is configured to go for most casual users
Cons:, Frequent Releases, The Music Players Suck
Pros:, Lots of Programs, It is everywhere
Cons:, Very Expensive, Unrealiable
Pros:, It looks great + ease of use, The software and hardware are designed to work together for optimal experience
Cons:, Windows is still the premier gaming PC, you can still run many games on Mac OS X but not all of them., Not as easy to upgrade, though more companies are starting to offer upgrade option
Tablet Operating Systems
iOS5
iPad2, Pros, Video Conferencing, Longer Battery Life, Cons, No USB/ No SD card reader, No removable battery
Pro, Adobe Flash Player, HD touchscreen
Con, cost of this tablet is high in comparison to other existing tablets, does not have GSM voice communication capabilities
Pro, Microsoft office, Duarble
Con, No desk top charging dock, Heavy
Pro, 32 GB, 1.9-pound slate-tablet design
Cons, battery life was even lower, no Flash
Pro, Price, opens the door to a new market complementary aims high school students, students and families.
Con, No camera, No Mic
Pro, It won't crash., It's really fast.
Con, It's only in its first beta., You won't have any add-ons.
Windows7
Pro, very low cost, Long battery life
Con, Little Power, Very little memory
Pro, Fast, Portable
Con, Weak graphics, small keyboard
My devices and my operating systems
Commication Devices
Ipod touch, iOS 4 (known as iPhone OS before June 2010) is Apple's mobile operating system
Samsung Phone, t301g Cell Phone, Bada (Samsung Phone) :is an operating system for mobile devices such as smartphones and tablet computers. It is developed by the Samsung Electronics
Gaming
Wii, Linux (commonly in American English, also in Europe and Canada) refers to the family of Unix-like computer operating systems
Microsoft Xbox 360 Elite 250GB White, Xbox 360 system software (or Dashboard), is the updatable software and operating system for the Xbox 360., Kinect
Computing
iMac: 21.5-inch: 2.5GHz 2.5GHz Quad-Core Intel Core i5 1920 x 1080 resolution 4GB (two 2GB) memory 500GB hard drive1 AMD Radeon HD 6750M with 512MB, Mac OS X Snow Leopard (version 10.6) is the seventh and current major release of Mac OS X, Apple's desktop
PS3
Pro, Free Wifi, Blu-Ray
Con, No Backward Compatibilty, No Linux support
Xbox 360
Con, No blu-ray, Older models prone to over heating
Pro, Kinect
Extensive Game Collection
Wii
Con, Graphics are average, Online gaming is difficult
Pro, Cheapest System, Fun for families