Cloud computing
by Alexander Lodrioor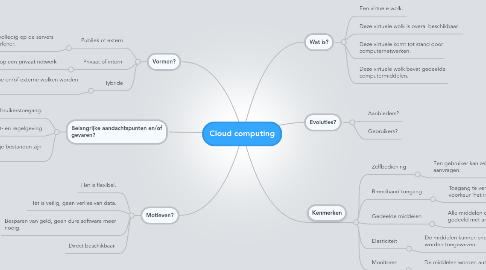 1. Kenmerken
1.1. Zelfbediening
1.1.1. Een gebruiker kan zelfstandig computertijd aanvragen.
1.2. Breedband toegang
1.2.1. Toegang te verkrijgen via breedband, bij voorkeur 'het internet'.
1.3. Gedeelde middelen
1.3.1. Alle middelen die voorhanden zijn worden gedeeld met anderen.
1.4. Elasticiteit
1.4.1. De middelen kunnen snel en gemakkelijk worden toegewezen.
1.5. Monitoren
1.5.1. De middelen worden automatisch bestuurd.
2. Vormen?
2.1. Publiek of extern
2.1.1. Software en data staan volledig op de servers van de externe dienstverlener.
2.2. Privaat of intern
2.2.1. Een geëmuleerde wolk op een privaat netwerk
2.3. Hybride
2.3.1. Meerdere interne en/of externe wolken worden samen gebruikt
3. Wat is?
3.1. Een virtuele wolk.
3.2. Deze virtuele wolk is overal beschikbaar.
3.3. Deze virtuele komt tot stand door computernetwerken.
3.4. Deze virtuele wolk bevat gedeelde computermiddelen.
4. Motieven?
4.1. Het is flexibel.
4.2. Het is veilig, geen verlies van data.
4.3. Besparen van geld, geen dure software meer nodig.
4.4. Direct beschikbaar.
5. Belangrijke aandachtspunten en/of gevaren?
5.1. Beperkte gebruikerstoegang.
5.2. Naleven van wet- en regelgeving
5.3. Je weet niet precies waar je bestanden zijn opgeslagen.
6. Evoluties?
6.1. Aanbieders?
6.2. Gebruikers?