SPED 3020 GP 2 Attitudes of Different Countries Towards Special Education/Special Education Rights
by Natalie Atkinson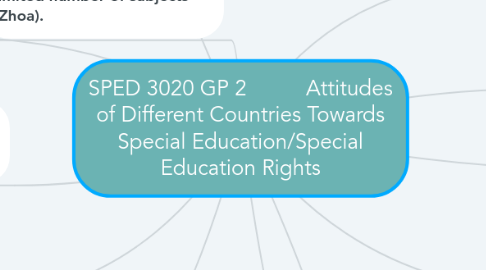 1. Estonia: teachers support segregated education for students with disabilities, especially those with severe disabilities (Moberg).
2. South Korea - promotes fundamental and basic education that fosters sound human beings (Zhao).
3. China - forbids ranking schools or individuals based on test results (Zhoa). Large focus on inclusion in classrooms. Strong societal responsibility to support people with disabilities (Meyer).
4. Japan - helps children develop their individuality and gives them diverse choices (Zhoa).
5. United States - increasingly obsessed with test scores in a limited number of subjects (Zhoa).
6. United Kingdom - building a stronger system between education and their world partners (Zhoa).
7. Costa Rica: Refrained from institutionalization. Services take place in same location as people without disabilities. Culture values difference and equality (Meyer).
8. International: People with disabilities have protected rights to aid in societal integration. They have the right to access education, medical services, vocational training, counseling, etc. (Declaration on the Rights of Disabled Persons).
9. Finland: full inclusion of students with disabilities is highly supported among teachers (Moberg).
10. Religious laws affect views on education in Islamic countries although assistance is being made available such as scholarships.
11. India: Access to educational opportunities are affected by your family standing.
12. Countries provide very small percentage of budgets to education.