Assessment and Research Mind Map: Final Thoughts
by Oscar Tan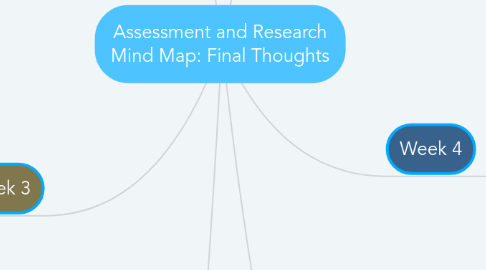 1. Week 1
1.1. Make work extensions possible for students
1.2. Be Flexible, students might have real life situations going on, this can affect their work must be available in school too.
1.3. Teachers need to learn how to give a grade that reflects the student's best work
1.4. This mixing of grades with effort can be labeled score pollution.
1.5. Students, who do not hand work in on time, should have consequences, but these should not affect grades.
1.6. If marks are lowered for late work, students will not do the work.
1.7. Grades should be representative of the how close a student comes to meeting the learning target
1.8. Grades should not represent how much a student tried and if they were helpful.
1.9. Should we standardized test? No, In my opinion, does not have students, makes students freak out, etc.
2. Week 2
2.1. The achievement chart can be use as a basis of my rubrics and organize my rubric for (K,A,T,C). categories better
2.2. Using Bloom's Taxonomy verb such as analyzing, understanding, etc. These words will help in factoring well written notes, and feedback for the students
2.3. Report Cards
2.3.1. Learning Skills, Academic Skills
2.4. If the expectations in the IEP are MODIFIED, teachers must check the "IEP" box for that subject/strand on the Progress and/or Report Card and teachers must also include the following statement in the section "Strengths/Next Steps for Improvement":This (letter grade/percentage mark) is based on achievement of expectations in the IEP that vary from the Grade X expectations (and/or) are an (increase/decrease) in the (number and/or complexity) of curriculum expectations."
2.5. Fairness in assessment and evaluation is grounded in the belief that all students should be able to demonstrate their learning regardless of their socio-economic status, ethnicity, gender, geographic location, learning style, and/or need for special services (Volante, p. 34).
2.6. Supporting student learning means making the assessment and evaluation accessible to all students
3. Week 3
3.1. Children's play is representational and provides the foundation for literacy and numeracy.
3.2. Play is how children learn. What we want to do in our play-based approach to learning is fire a child's imagination. Fire a child's curiosity.
3.3. Young children engage in significant mathematical thinking and reasoning in their play … Combining free play with intentional teaching, and promoting play with mathematical objects and mathematical ideas, is pedagogically powerful.
3.4. Children learn by becoming fascinated, and the more fascinated they are, … [the] more they will be driven to learn how to read … Their reading will be driven by their desire to learn about what they are captivated by.
3.5. When writing anecdotal comments, educators should focus on what children have learned, describe significant strengths, recognize children's growth, and identify possible next steps for learning. Educators should use language that parents will understand.
3.6. In Kindergarten, it is very appropriate to use examples of learning from pedagogical documentation to provide evidence of the child's learning in a play environment. These rich examples can be the starting point for discussion with parents about the child's learning as it relates to the Kindergarten program expectations.
3.7. Kindergarten should be play based learning
3.8. It is expected that teachers and early childhood educators will collaborate in observing, monitoring, and assessing the development of the children in Kindergarten and in communicating with families, and that the teacher will ensure that the appropriate Kindergarten Communication of Learning templates are fully and properly completed and processed.
3.9. It is important to the child's development to engage parents in the child's learning early in the school year and to support them throughout the year in helping their child with next steps in learning.
3.10. Real life situations that assess student's academically and socially
4. Week 4
4.1. Peer and Self assessment, rubrics, data collection, checklists, anecdotal notes
4.2. As the teacher, you should model for the students the correct way of how to not be bias or dishonest in their own assessing
4.3. Different resources to use in assessing such as FlipGrid, Quiz Forms Online, Google Classroom
4.4. Using assessment tools, such as FlipGrid is another way to formulate spontaneous ideas and understanding
4.5. Single Point Rubrics are a great way to address feedback and look like two stars and a wish
4.6. Having to differentiate our rubrics for our students because often times it can be a formula, however, teachers should find way to make a rubric that is familiar
5. Week 5
5.1. Feedback guides the student in their learning process and give them the direction they need to reach the target or goal of the lesson. As well improve the outcomes by becoming more engaged and involved in class
5.2. Formative assessment is—or should be—the bridge or causeway between today's lesson and tomorrow's.
5.3. Formative assessment should be an ongoing exchange between a teacher and his or her students designed to help students grow as vigorously as possible and to help teachers contribute to that growth as fully as possible.
5.4. Formative Assessment 10 Principles
5.4.1. Help students understand the role of formative assessment.
5.4.2. 2. Begin with clear Knowledge, Understanding, and Dos
5.4.3. 3. Make room for student differences.
5.4.4. 4. Provide instructive feedback.
5.4.5. 5. Make feedback user-friendly.
5.4.6. 6. Assess persistently.
5.4.7. 7. Engage students with formative assessment.
5.4.8. 8. Look for patterns.
5.4.9. 9. Plan instruction around content requirements and student needs.
5.4.10. 10. Repeat the process.
5.5. Feedback vs Feedforward
5.5.1. Feedback:
5.5.1.1. Affirms what the person already knows
5.5.1.2. Points out problems
5.5.1.3. Is an Information dump
5.5.1.4. Tries not to be mean
5.5.1.5. Doesn't always offer a plan of action
5.5.1.6. Comes from the top down
5.5.2. Feedforward
5.5.2.1. Regenerates talent
5.5.2.2. Expands possibilities
5.5.2.3. Is Particular
5.5.2.4. Is Authentic
5.5.2.5. Has an Impact
5.5.2.6. Refines group dynamics
6. Week 6
6.1. Success Criteria of Assessment and Evaluation
6.1.1. 7 Fundamental Principles of Assessment
6.1.1.1. are fair, transparent, and equitable for all students
6.1.1.2. support all students, including those with special education needs, those who are learning the language of instruction (English or French), and those who are First Nation, Métis, or Inuit;
6.1.1.3. are carefully planned to relate to the curriculum expectations and learning goals and, as much as possible, to the interests, learning styles and preferences, needs, and experiences of all students
6.1.1.4. are communicated clearly to students and parents at the beginning of the school year or course and at other appropriate points throughout the school year or course;
6.1.1.5. are ongoing, varied in nature, and administered over a period of time to provide multiple opportunities for students to demonstrate the full range of their learning;
6.1.1.6. provide ongoing descriptive feedback that is clear, specific, meaningful, and timely to support improved learning and achievement;
6.1.1.7. develop students' self-assessment skills to enable them to assess their own learning, set specific goals, and plan next steps for their learning.
6.2. Observations, Conversations, Product
6.3. Educational Data
6.3.1. OSR, Observations, IEP, Conversations, EQAO, Attendance, Tests, etc.