to MBA or not to MBA
by Janneke Sluijs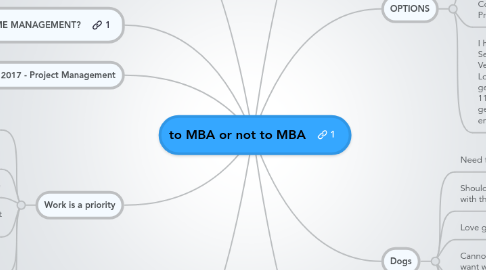 1. Health and weight
1.1. Need to train to keep healthy
1.2. Need to train a lot to keep lean
1.3. Cannot keep lean and eat well with MBA
1.4. Get fat when taking module after module
2. Would be good to have it done
2.1. Would provide feeling of security - back up plan
2.2. Great degree to have
2.3. Would be proud
2.4. Need to get it done sometime anyway
2.5. Do I have time to fit modules in one by one months apart?
2.6. Is it easier studying in summer or winter?
2.7. Next module (Consumer Behaviior) is super interesting - fun!
3. Can I get better at TIME MANAGEMENT?
4. Conclusion: next MBA module for October 26, 2017 - Project Management
5. OPTIONS
5.1. Project Management - October 2017 Consumer Behavior - January 2018
5.1.1. Delay 100 miler to Feb 2019
5.1.2. Do more running in summer when really fun
5.1.3. Research Methods - March 2018 then dissertation from June to December 2018
5.2. Consumer Behavior - March 2018 Project Management - June 2018
5.2.1. Do 100 miler in Feb 2018
5.3. I have a lot on my plate for August and September 2017: VegFest London trip getting cardio fit 110 lbs before Hawaii get work activity up before trip enjoying long summer days w Ted & dogs
6. Work is a priority
6.1. I can fit all my work together with studying
6.2. It is a little harder to get activity and motivation up with work while studying
6.3. I'm most effective getting up early - MBA makes me stay up late
6.4. Next trip to London will interfere with next MBA module
6.5. Need to take occasional Wednesday off for papers
6.5.1. Can I get better at doing more on weekends so I don't have to take Wed off?
6.6. I have a really flexible job
7. Dogs
7.1. Need to run with them a lot more
7.2. Should get up in morning and do a run with them
7.3. Love going for long weekend runs with them
7.4. Cannot run with them as much as I want while studying
7.5. Want to run in mornings in Bragg
7.6. Want to do two runs per day
7.7. This would be delayed this year if taking module after module without break
8. VegFest
8.1. I need to put in a lot more work
8.2. Next module will interfere with my fundraising efforts
8.3. Need to have time to meet with team
8.4. Is this a priority?
9. Training
9.1. Really want to train more
9.2. Would love to race more
9.3. Would love to race with Ted
9.4. MBA takes time away from this big time
9.5. Would love to run 100 miles - cannot be done with MBA
9.5.1. Perhaps could build a little base (maintain & stretch) while working on MBA modules
9.5.2. Could train more while doing dissertation in 2018? So 100 miler in Feb 2019?