Scotland
by Анна Рыбак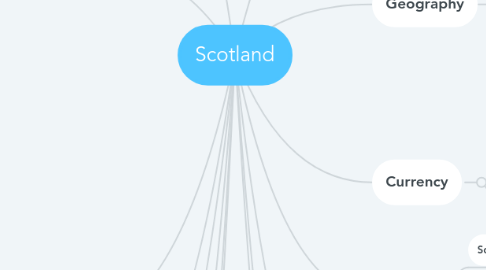 1. Geography
1.1. Located: Noth of GB
1.2. Consist of mainland area plus several island groups.
1.3. Temperate oceanic climat
2. General information
2.1. Scotland is a country and former independant kingdome of nortwest Europe and one of the three nations comprising Great Britain.
2.2. Ancient name - Alba.
2.3. The Scotish saltire and field is one of the components of the Union Flag.
3. Demographics
3.1. The majority of population lives in the Central Belt.
4. History
4.1. The early settlements: Scara Brae, Calanais, Mousa.
4.2. The earliest tribes: Picts, Scots
4.3. Hadrian's Wall - was a defensive fortification in the Roman province of Britannia.
4.4. 843 - Alba
4.5. From the 1000's - lost of Celtic character.
4.6. Sir William Wallace was a Scottish knight who became one of the main leaders during the First War of Scottish Independence.
4.7. Robert the Bruce was King of Scots from 1306 until his death in 1329. Robert was one of the most famous warriors of his generation, and eventually led Scotland during the First War of Scottish Independence against England. He fought successfully during his reign to regain Scotland's place as an independent country and is today revered in Scotland as a national hero
4.8. In 14-16 - wars
4.9. 1707 - act of Union
5. Language
5.1. Official: Scots, Scots-Gaelic
5.2. De facto: English
6. Currency
6.1. Pound Sterling
7. Education
7.1. Own separate education system
7.2. Free state education
8. Law
8.1. Scots Law
8.2. Law is uncodified
8.3. Three verdicts for crime: guilty/not guilty/not proven
9. Religion
9.1. the Church of Scotland
9.2. Pesbyterian form
9.3. Scottish Episcopal Church
9.4. Free Church of Scotland
10. Sport
10.1. Shinty
10.2. Football
10.3. Rugby
10.4. Golf
10.5. Highland Games
10.5.1. Athletic heavy events
10.5.2. Highland dansing
10.5.3. Pipe bands
11. Literature
11.1. JK Rowling
11.2. Ian Banks
11.3. Dame Murial Spark
11.4. Ian Rankin
11.5. Sir Artur Conan Doyle
11.6. Sir Walter Scott
11.7. Robert Louis Stevenson
11.8. Robert Burns
12. Ian Rankin
13. Festivals
13.1. The Edinburg Festival
13.2. The Edinburg Festival Fringe
13.3. The Edinburg military tatoo
14. Holidays and traditions
14.1. Hogmanay
14.1.1. First-footing
14.2. Ne'erday
14.2.1. Smoking Stick
14.3. Burns supper
14.3.1. Haggies
15. Icons
15.1. Loch Ness
15.2. Irn Bru
15.3. Tartan
15.4. Single malt Scotch Whisky