Information Technology
by Daniela Sánchez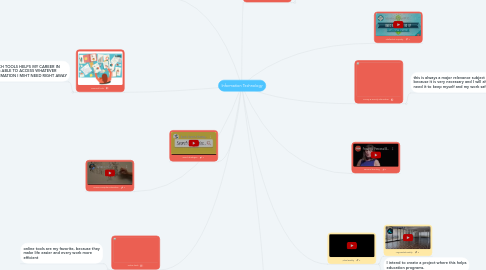 1. Virtual Reality
1.1. Augmented Reality
1.2. I intend to create a project where this helps education programs.
2. Artificial Intelligence
2.1. I consider this might be very helpful in like refugee camps or by implementing humanitarian aid.
3. Research tools
3.1. SEARCH TOOLS HELPS MY CAREER IN BEING ABLE TO ACCESS WHATEVER INFORMATION I MIHT NEED RIGHT AWAY
4. information dissemination
5. Intellectual Property
6. Human computer interaction
7. Personal branding
8. Technology trends
8.1. This is necessary for evolution in our lilies and. to improve and implement our way of living.
9. Online tools
9.1. online tools are my favorite, because they make life easier and every work more efficient
10. Privacy & security information
10.1. this is always a major relevance subject because it is very necessary and I will always need it to keep myself and my work safe
11. Search strategies