APPROACHES TO TEACHING LISTENING
by Asuman Simsek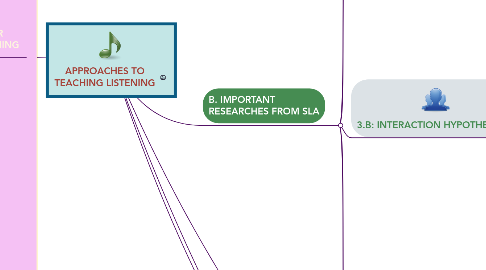 1. A. CONTEXTS FOR TEACHING LISTENING
1.1. 1.A. Contact: When does the learner come into contact with the L2? How often and intense is it?
1.2. 2.A. Identity: To what extent does the learner see himself or herself as bilingual?
1.3. 3.A. Competence: What is the target competence that learners are expected to attain in L2?
1.4. 4. A. Function: For what communicative functions will the L2 be used?
1.5. 5.A. Goal: What is the ultimate and eventual goal of the learner in acquiring L2?
1.6. With the help of these questions, we can estimate; -Intensity, -Value of oracy - Authenticity
2. 6.B: SOCIOCULTURAL HYPOTHESIS: SEEKING APPROPRIATE CONTACT TO PROMOTE DEVELOPMENT
3. Sociocultural Theories: the goals and motives of the learner are important because they are the learners' perception of themselves within their social environment. In SCT, SLA is seen as part of acculturation, the degree to which a learner is motivated to acculturate with the target language group will determine the success which he or she acquires the second language. In SCT language acquisition is determined largely by the degree of social and psychological distance – the gap between the learner and the target language culture. APPLICABLE PRINCIPLES FOR TEACHING * Learners who have positive (minimal) distance, socially and psychologically, from the target language will learn more efficiently and more enjoyably. *Learners who experience positive social and psychological distance will more readily gravitate toward target language standards in their language learning efforts.
4. Metacognitive processing is a form of critical thinking. -(the 1990s) Learning strategies mean the ways that learners think about, plan, and adjust their , listening processes. -(Now)Learning strategies is a term now used to refer to any attitudinal plans or behavioral devices that students use to acquire knowledge or skills. The goal of introducing strategies is to make instructional goals clearer and learning ultimately easier, effectively allowing learners to reach learning objectives. 1- Retrieval strategies, 2- Rehearsal strategies, 3- Covert strategies, 4- Communication strategies. APPLICABLE PRINCIPLES FOR TEACHING *Integration of learning strategies helps students listen more efficiently, and become more autonomous learners who can acquire language on their own. *The introduction of listening strategies needs to be done explicitly. *Stretching of capacity, use of explicit listening strategies can enable students to handle tasks that may be more difficult. *Less successful learners can consciously adopt these strategies
5. B. IMPORTANT RESEARCHES FROM SLA
5.1. 1.B: AFFECTIVE FILTER HYPOTHESIS
5.1.1. Dualy and Burt (1977) Krashen (1982, 1985) The learner's motives, needs, attitudes and emotional states can lower filter allows increased learning to take place OR raise the filter and inhibit learning. APPLICABLE PRINCIPLES FOR TEACHING *To lessen sts' anxiety: Student-centered and collaborative learning formats, (pair and group works) Using different task types, (competitions, games and technology tools.) Choosing appropriate listening content, ( dramas, TV programmes, music, comedy and political discussion etc.)
5.2. 2.B: INPUT HYPOTHESIS
5.2.1. Krashen (1982) Natural Order Hypothesis: Natural order of acquisition for learners. SLA through understanding messages or receiving comprehensible input. APPLICABLE PRINCIPLES FOR TEACHING *Instruction should aim to provide comprehensible input. i+1, slightly above the learners' current level. *Comprehensible input can be AURAL or WRITTEN, or BOTH. *Extensive listening to ensure ample amounts of input. *Listening skill requires not only extensive L2 input but also opportunities for OUTPUT. Speaking ability will emerge naturally as a result of listening input.
5.3. 3.B: INTERACTION HYPOTHESIS
5.3.1. Input alone is not enough for acquisition because the meaning has a social dimension. Verbal interaction is an opportunity to create social meaning. Social interaction has many effects on language learning. 1- Learners provide themselves with comprehensible input through interaction adjustments. 2- Through negative feedbacks, they can see their errors. 3- Through pushed output, they try new words and structures to convey their ideas in social context. APPLICABLE PRINCIPLES FOR TEACHING *Ls should sort out the meaning themselves not via a deductive presentation. *Listening instruction should promote: Clarification checks, comprehension checks and collaborative strategies to approach meaning. *There should be oral interaction tasks for negotiation of meaning, pushed output. Such as info-gap, opinion-gap tasks and role-plays.
5.4. 4.B: PROCESSABILITY HYPOTHESIS: TUNING INPUT TO TRIGGER ACQUISITION
5.4.1. TWO PEDAGOGIC APPROACHES TO IMPROVE SYNTACTIC PROCESSING OF ORAL LANGUAGE 1. ENRICHED INPUT Texts deliberately flooded with exemplars of the target structure. Incıdental learning of TL through focus-on-form. 2. PROCESSING INSTRUCTION Pedagogic tasks are designed based on predictions about features of grammar. Engaging in intentional learning by consciously noticing how a target grammar feature is used in the spoken input even though the feature is not explicitly emphasized or 'flooded' in the input. APPLICABLE PRINCIPLES FOR TEACHING *Listening for acquisition; listening instruction should select oral input that contains the necessary features for acquisition and create activities that promote noticing of those features. *Ls must use operating principles to notice formal features of spoken language. proof-listening, to enable learners to go over transcripts of natural oral texts systematically, successively identifying particular features that they may otherwise not notice. *'Pushed output' tasks that force learners to articulate in speech or writing exactly what they have heard.
5.5. 5.B: METACOGNITION HYPOTHESIS: USING EXPLICIT STRATEGIES TO ACTIVATE CAPACITY