Income and Mortgages Mind Map: Class Assignment
by Jazmine Williams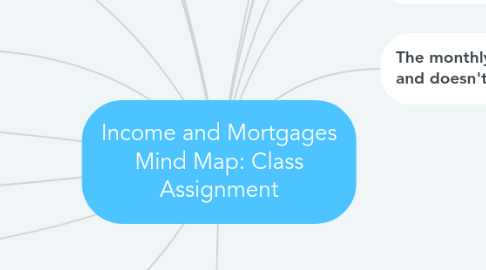 1. Ally has unbeatble rates which will help me save.
2. Great Reasons to Choose Ally
3. Price Match Guarantee, Find a lower rate with a competitor and Ally will match it
4. promise awesome customer care
5. Ally's Interest Rates and Annual Percentage Rates (APRs) you viewed online are accurate as of the day they were originally shown and can change daily.
6. The monthly payment amount shown is calculated based on the term you selected and doesn't include taxes or insurance. Your actual payment will be higher.
7. Quicken Loans
8. Get approved fast
9. Great Reviews in Nerdwallet, The New York Times, and Tech Crunch
10. share your credit information with Quicken Loan, explore your option on mortgage solutions toward my goal, get approved, make an offer, lastly close the loan
11. negotiate a fair price
12. Mortgage with Chase
13. Up to 3,000 cash back with closing with Chase
14. Low or No Down Payment
15. $500 Cash Back
16. A low 3% payment option, which can come entirely from gift funds
17. The $3,000 savings consists of the $2,500 Homebuyer Grant and the $500 Homebuyer Education benefit.