RAIN FOREST
by Abi Orozco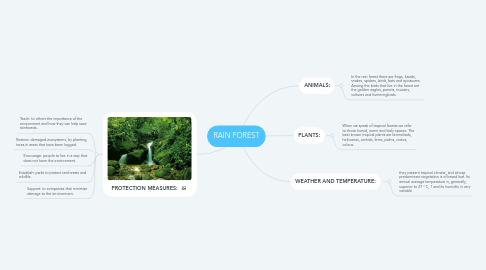 1. ANIMALS:
1.1. In the rain forest there are frogs, lizards, snakes, spiders, birds, bats and opossums. Among the birds that live in the forest are the golden eagles, parrots, toucans, vultures and hummingbirds.
2. PLANTS:
2.1. When we speak of tropical forests we refer to those humid, warm and leafy spaces. The best known tropical plants are bromeliads, heliconias, orchids, ferns, palms, crotos, coleus.
3. WEATHER AND TEMPERATURE:
3.1. they present tropical climate, and whose predominant vegetation is of broad leaf. Its annual average temperature is, generally, superior to 27 ° C, 1 and its humidity is very variable
4. PROTECTION MEASURES:
4.1. Teach: to others the importance of the environment and how they can help save rainforests.
4.2. Restore: damaged ecosystems, by planting trees in areas that have been logged.
4.3. Encourage: people to live in a way that does not harm the environment.
4.4. Establish: parks to protect rainforests and wildlife.
4.5. Support: to companies that minimize damage to the environment.