Ankylostoma duodenale
by Faisal AL-Hudaithi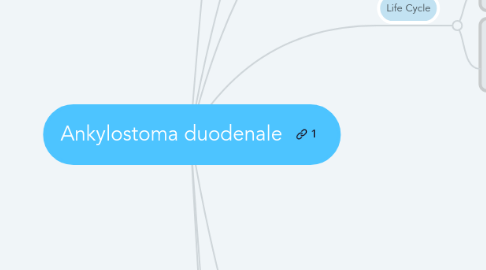 1. Morphology
1.1. Eggs
1.1.1. Shape: Oval or elliptical Size: 60 x 40 μm Outer membrane is thin and membranous . When freshly laid carries 4 blastomeres (divided ovum) inside . Floats in a saturated solution of water Colourless, not bile stained.
1.2. Adult Male
1.2.1. Shape: thread like, cylindrical, reddish brown colour due to ingested blood Size: 8 mm Anterior end of the worm is curved like a hook dorsally (so called as hook worm) . Mouth: Has total 6 chitinous teeth (4 hooked ventral teeth & 2 dorsal knob like triangular plates) Oseophageal gland secretes a substance which prevents blood from clotting Special structure: Copulatory bursa (expansion) present at the posterior end of male worm It has 3 lobes. Cloaca present at posterior end
1.3. Adult Female
1.3.1. Shape: thread like, cylindrical Size: 12 mm Anterior end is curved and has 6 chitinous teeth Posterior end is pointed with no bursa Genital opening: at junction of middle & posterior 1/3rd
1.4. Rhabditiform larvae
1.4.1. Size: 200-250 X16 μm Shape: cylindrical Have a short mouth with a double bulb long esophagus. Hatch out of the eggs in soil under adequate conditions
1.5. Filariform larvae
1.5.1. Longer forms of larvae, develop in soil . Size: 500-600 X16 μm Have a short mouth and a cylindrical short oesophagus Have a pointed tail .
2. Transmission
2.1. Penetration of the human skin, usually that of the foot.
3. Habitat
3.1. Adult worms live in the small intestine of Man (Jejunum mainly)
4. Life Cycle
4.1. Definitive host: Man (only 1 host is required)
4.2. diagnostic stage : Eggs in stool
5. Clinical features
5.1. Ground itch: develops at the site of entry of filariform larvae. Disappears in 1-2 weeks
5.2. Creeping eruption: cutaneous larva migrans: Marking on the skin due to the migration of filariform larvae through the skin at rate of 1-2cms/day
5.3. Bronchitis / bronchopneumonia: due to moulting and migration of larvae through the lungs
5.4. Chronic blood loss (0.03-0.2 ml/day/worm)
5.5. Anemia (Hypochromic-microcytic): Hb less than 10mg% Nutritional defects: Iron, vitamin B12, Folic acid
5.6. Gastric acidity/ dyspepsia In heavy infestations (which may involve more than 500 larvae
5.7. general symptoms include pallor of the skin and mucous membranes, fluid retention in the face and extremities, constipation alternating with diarrhea, abdominal tenderness, increased appetite for strange substances (e.g., clay), delayed puberty and stunted growth in young, fatigue, dullness, and apathy.
6. Diagnostic procedures
6.1. Blood picture: Anaemia
6.2. Stool examination: characteristic eggs. and live worms at times.
6.3. Endoscopy: duodenum
6.4. Immunology: ELISA, CFT
7. Treatment
7.1. Mebendazole
7.2. Albendazole