THE KEYS TO A VALID AND RELIABLE TEST
by Deb Caldwell-Siwinski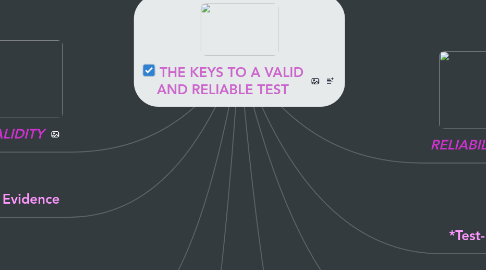 1. *Content Validity Evidence
1.1. *Examines test content for instructional objectives ensuring test aligns with academic standards.
2. *Test-ReTest or Stability
2.1. *A method of measuring exam reliability by testing twice with significant intervals between tests without further instruction to compare scores for reliability of the test within certain correlations limits.
3. *Criterion Related Evidence
3.1. *Important to valid tests as scores garnered from test can be correlated to external criterion as proof of validity.
3.2. Concurrent criterion-related validity evidence: Measures that can be administered in conjunction with one another that validate both numeric scores
3.3. Predictive validity evidence: Predicts how well future behavior or performance of the test-taker.
4. *Construct Validity Evidence
4.1. Important in establishing the validity of a test when unable to anchor the test to a well-established test measuring like behavior or measureable future behavior.
5. *Alternate Forms or Equivalence
5.1. *A method of testing that employs equivalent to one another to determine the correlation ob the intital test and the equivalency test. Tests must be administered under the same conditions to further validate reliability.
6. *Internal Consistency
6.1. *Important because this method helps to ensure reliability methods by examining test-related items are correlated to one another for consistency. Especially useful when used as Split-half methods; specifically odd-even reliability and through Kuder-Richardson methods.
6.2. Split-half method: the practice of assigning alternating questions or items for gathering test scores:
6.3. Kuder-Richardson methods: Measures which items have commonalities.
7. *VALIDITY*
8. *RELIABILITY*