TEDxVienna
by
Dan Taylor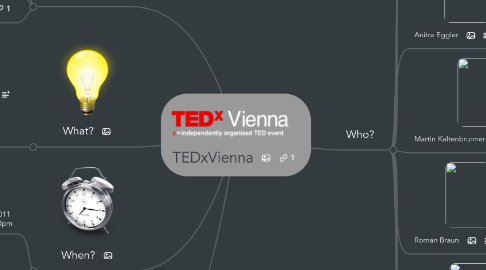 0.0
stars -
0
reviews range from
0
to
5
Who?
Robert Trappl is head of the Austrian Research Institute for Artificial Intelligence and Professor Emeritus of Medical Cybernetics and Artifcial Intelligence at the Center for Brain Research at the Medical University of Vienna. Robert hates to write project proposals(but does), hates even more if these proposals are rejected (they sometimes are), loves to explore new areas and loves to lecture (and does both), loves fascinating people (whom he expects to meet at TEDx 2011), and loves to love.
Moritz Helmstaedter is a neuroscientist dedicated to mapping connectomes, the complex networks of nerve cells in the brain. A medical doctor and physicist by training, Moritz completed his doctoral thesis with Nobel laureate Bert Sakmann at the Max Planck Institute for Medical Research in Heidelberg, Germany. During his post-doctoral work, together with Winfried Denk and Kevin Briggman, he developed methods to map nerve cell networks using electron microscopes and computer analysis tools. This is making it possible for the first time to decipher large complex networks in the brain at single-cell resolution. He is currently setting up his own laboratory at the Max Planck Institute of Neurobiology in Munich, where he aims to understand the computations in sensory cortex, and to unravel what distinguishes a human brain from, say, that of a mouse, at the structural level. Moritz has pioneered crowd sourcing for connectomics, engaging more than a hundred students to work together to analyze the immense amounts of data. Going forward, he aims at motivating thousands of curious minds to collaborate online on the task of reconstructing the powerful and fascinating neuronal networks of the brain.
For over 20 years, Bernhard Drumel has worked in the environmental field. In the last five years, he acted as Global Fundraising and Development Director of Greenpeace, being responsible among others for setting up Greenpeace in Africa. With 'Supporting Change' he is currently helping a wide range of Austrian and international social change initiatives and organizations in strategic advice, campaigning and organizational support. He initiated/participated in two bigger referenda in Austria and presently supports the biggest social change initiative in Austria, the referendum for an educational reform planned in November 2011. Furthermore he is part of the Executive Board of the recently established Organization to advance the Common Welfare Economy.
Alexander Oswald is a Senior Marketing Manager with 13 years Management experience in telecommunication and consumer electronics industry. He has worked for global brands in fast changing business environments, whilst having a focus on Central & South East Europe. At the present time he is Head of Marketing at Nokia, covering several countries, including Switzerland, Cyprus, Israel and of course Austria. Adding to his durable career path, Alexander is also co-author of the first handbook for mobile marketing and mobile campaigns in German language, "Mobile Marketing".
In August 1997, when Albin Kurti was 22 years old, he joined presidency of the Students Independent Union of the University of Prishtina (SIUUP), and soon after he became its International Officer. During the historic student demonstration in Prishtina on October 1, 1997, brutally repressed by Milosevic's police, Kurti was one of the protest leaders. During the NATO bombing of Serbia and Kosovo he was engaged in seeking a political solution to Kosovo's crisis and was arrested by Serbian police. After a 15 years sentence in 2000, Kurti was released in 2001 due to international pressure. Albin Kurti is currently an MP, the Chair of the Parliamentary Foreign Affairs Committee in the Republic of Kosovo, as well as the leader of the political movement, Lëvizja VETËVENDOSJE!.
Klaus majored 2008 in industrial engineering at the TU Vienna. His degree thesis: "the development of an orthosis used in the supporting and measuring of a torque path of the ankle during rehabilitation" received special honors. At the moment he is finishing his pre-doc in technical sciences at Vienna's Technical University's Institute of Material Sciences and Technologies. Under the supervision of Prof. Stampfl he is involved in a working group concerned with the manufacturing of optical fibers.
Born into a musical family, Christoph's destiny to become a musician seems almost predetermined. Rather than sticking to just one style, he used his endless obsession with of all types of music from early on, to adapt his influences into his own way of composing and playing. The Vienna based contemporary musician and composer now sees his role as a mediator between musical worlds, trying to find new ways to challenge the listening habits of his audience. Never pleased with the results, then handing his written music to other musicians, he is now doing it all himself. His music is hard to define. His instrument is the electric guitar.
The yet unknown team behind the infamous "Table Connect for iPhone" project has agreed to make its first public appearance at TEDxVienna. It was featured on news outlets such as Engadget, The Sun, Forbes and many more. After months of hard work behind the scenes, the team will talk about the ups and downs of the project, and announced the first short live demonstration.
Anitra is a digital therapist. Doing is her favorite word. Before her professional independence, she has gone through everything you can contribute to the internet business, working as a journalist, start-up manager, Creative & Managing Director, Digital Mastermind and CCO. In achieving this she worked almost 15 years around the clock and accumulated a vast experience. Nowadays Anitra dispenses this knowledge as digital therapy in various forms and outlets like her Blog or as a university lecturer. She heals internet disease and initiates value creation from any kind of digital communication. From November 2011 she will share her insights also in the form of books.
Martin Kaltenbrunner is Professor at the Interface Culture Lab at the University of Art and Design in Linz. Before his return to Austria he worked as researcher and lecturer at the Pompeu Fabra University in Barcelona, at the MIT Medialab Europe in Dublin, as well as further European universities. As co-founder of Reactable Systems he had been mainly responsible for the interaction design concepts behind the Reactable, which has been successfully introduced by renowned artists such as Björk. The instrument has been shown at several international media art and music festivals, and was awarded with the Golden Nica for Digital Music, two D&AD Yellow Pencils and the Prize of the City of Barcelona. Kaltenbrunner publishes in the context of human computer interaction conferences and his influential research on tangible interface tools has been employed for the realization of numerous artistic and scientific projects in that area.
Roman Braun is Master-Coach of the ICF (International Coach Federation) and NLP-Master-Trainer. He received his education in NLP directly from the developers of the psychotherapy approach: Richard Bandler and John Grinder, alongside personalities like Paul Watzlawick, Bert Hellinger and Steve de Shazer. Braun compiled an NLP method of his own, where he incorporates Systems Theory and Ethics, terming it Trinergy. The system is a model for conflict resolution, based on and generated from methods and techniques of intra- and interpersonal communication.
Corinna Milborn is an Austrian political scientist and journalist. In her early career, she acted as expert in globalisation issues and spokesperson for the WWF. Former Editor in Chief at the human rights magazine Liga and political editor at the news magazine Format, Mrs. Milborn is since 2010 Deputy Editor in Chief at News and host of the TV-talkshow "Club2" at the Austrian Public Television Network. Dealing for a long period with issues of migration, integration, globalisation and human rights, she received among others the Bruno-Kreisky-Award in 2007 for the political book "Gestürmte Festung Europa" and in 2008 the Concordia-Prize for Human Rights.
Jörg Hofstätter studied Architecture at the University of Applied Arts Vienna and Oslo. In 2004 he founded ovos, an Online Studio with a focus on Branded Entertainment and Serious Games. He considers himself a digital Architect, Edupreneur and Chocolate addict and has a passion for Games with a purpose. He frequently shows up at Games4change, an international movement dedicated to support games for social impact. Jörg has had lectures on various Universities and currently teaches digital strategies at at the University of Arts Linz.
Robert Misik is an Austrian journalist and political author, living and working in Vienna. He writes on a regular basis for the German Taz, as well as for the Austrian periodicals Profil and Falter. Furthermore, Mr. Misik runs a Vlog on the website of the Austrian daily "Der Standard" and is a successful non-fiction author, with bestsellers like "Genial dagegen". His views are trending to the left, towards social democratic theses, and he is often outspoken against neo-liberalism. 2010, Robert Misik was awarded the "Journalist of the Year" prize in the online category, a distinction of the periodical "The Austrian Journalist".
Leyla Tavernaro-Haidarian is a filmmaker and social activist. She began as a broadcast and print journalist in Los Angeles and Vienna for such companies as Warner Brother/Tribune Media, the American Radio Network and Diva Magazine. Her academic focus has been on social transformation and Iranian Cinema. More recently she has been writing and producing documentaries and television programs in South Africa for a variety of outlets around the world. Her latest projects include a documentary on the evolution and future of democratic governance and an edutainment based television soap opera for Iranian audiences. Her passion is exploring mutualistic paradigms, particularly through art and media, but also in politics and business. She is currently involved in the production of a feature film titled 'Vehicle 19', starring Paul Walker.
Mrs. Hollein studied Industrial Design at Vienna´s University for applied Arts, and graduated with a diploma in 1999. Since 1996 she is a curator and journalist for architecture and design. In 2007, Mrs. Hollein was the commissioner of Austria's participation at the 7. Architecture Biennial in Sao Paulo "feld72 – urbanism for sale". Other projects include for example curating the Galerie Aedes East, in Berlin and the Zumtobel Vienna "AustriArchitektur" in 2005. As an author she has contributed to numerous books, catalogues and juries. For 2010-2013 she is president of the KÖR jury/ art in public space Vienna. Together with T. Beyerle and T. Geisler, forming "Neigungsgruppe Design", she founded and curates since 2007 the VIENNA DESIGN WEEK and the conferences "D06 – Zeitzonen".
He carries the heart of Austrian tourism in his name, but this is not the reason why Niko Alm is oblivious to sin. Niko is the spokesperson for the Laicism-Initiative, wants to finally disaggregate state and religion and leads an intellectually inspiring duel with Andreas Kohl in the online version of "Der Standard". What others would regard as main task, the entrepreneurial Jack of all trades, Alm, sees as leisure activity. People like Niko Alm normally leave Austria, to self-actualize in entrepreneurial-friendly realms – in his case, we can only hope that his operations will further enrich and mark Austria, both on an economic and social level.
Since 2004, he heads the Middle Eastern office of the ORF in Cairo, Egypt. Mr. El-Gawhary was born in Munich, son of an Egyptian father and a German mother. Tributary to his activities at ORF, Karim works as Middle Eastern correspondent for eleven German-speaking Newspapers, f.e. Tageszeitung (Berlin), Presse (Wien), SonntagsZeitung (Zürich), Hannoversche Allgemeine or Stuttgarter Nachrichten to name a few. As a student, he activated as a free journalist in Cairo and Damascus. Karim studied Islamic Science and Politics at the FU-Berlin, with an emphasis on the Middle East. In 2011, Mr. El-Gawhary was assigned the Concordia Award for Freedom of the Press.
He joined us last time live from Silicon Valley for a quick insight into the early days of TED. This year we are happy to announce that Florian agreed to take the stage for a live talk. Florian Brody has extensive experience in marketing for start-ups and currently serves as head of marketing for Cimbal Inc. a company developing a mobile payment solution. He actively promotes to collaboration between Austria and the Silicon Valley and has initiated an incubator for Austrian companies. He was founding president of ASCINA, the Association of Austrian Scientists in North America. Florian held the chair for Multimedia Studies, University of Applied Sciences, Salzburg and was a member of the Graduate Faculty at the Art Center College of Design, Pasadena. He represented Austria ate TED4 Kobe and is a frequent speaker at events worldwide.
Where?
What?
The Domino Effect - We want to address the urgent need for focusing and identifying worldly problems that concern us all, key issues of global actuality, while analyzing how a single jolt directed at changing the state of something particular can also cause a chain reaction. Interdependence. Causality. Responsibility. It is not enough to share ideas, we have to apply them.
The world as we know it is ending. The development in robotics, genetics and neuroscience will make the lame walk, the blind see and our children have features which we choose for them to have. We will have more power – and more trouble than ever before. Because our hearts, and souls lag behind our technology. Our capability to solve conflict is way behind our ability to win wars. We are endangering ourselves on many fields, from global warming to plastics in our oceans, genetic manipulation and an economic system, that keeps preaching two hundred year old ideas. Our computer systems could overpower us, our companies could control us. But this is not the only thing happening. There are other change initiators and one of them is … TED. Never before were ideas shared in such rapid, global fashion. And interestingly enough, there are analogue events which make this difference. TED might be enabled by the web, yet TED itself represents the oldest form of human communication: story telling. Human beings sharing their stories with other human beings. We want to address the urgent need for focusing and identifying worldly problems that concern us all, key issues of global actuality, while analyzing how a single jolt directed at changing the state of something particular can also cause a chain reaction. Interdependence. Causality. Responsibility. It is not enough to share ideas, we have to apply them. About TEDx, x = independently organized event In the spirit of ideas worth spreading, TEDx is a program of local, self-organized events that bring people together to share a TED-like experience. At a TEDx event, TEDTalks video and live speakers combine to spark deep discussion and connection in a small group. These local, self-organized events are branded TEDx, where x = independently organized TED event. The TED Conference provides general guidance for the TEDx program, but individual TEDx events are self-organized. (Subject to certain rules and regulations.)
When?
October 22, 2011 9:00am - 11:30pm
Legend
Use the + and - icons to expand/collapse nodes
Hover over the square with lines to read attached notes
Well done!