Bernhard Drumel
by
Dan Taylor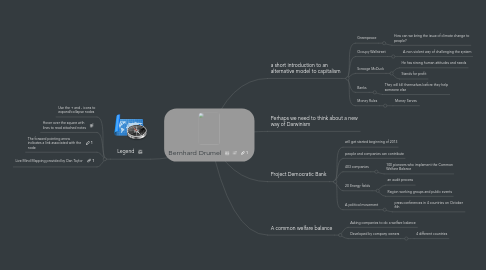 3.0
stars -
1
reviews range from
0
to
5
For over 20 years, Bernhard Drumel has worked in the environmental field. In the last five years, he acted as Global Fundraising and Development Director of Greenpeace, being responsible among others for setting up Greenpeace in Africa. With 'Supporting Change' he is currently helping a wide range of Austrian and international social change initiatives and organizations in strategic advice, campaigning and organizational support. He initiated/participated in two bigger referenda in Austria and presently supports the biggest social change initiative in Austria, the referendum for an educational reform planned in November 2011. Furthermore he is part of the Executive Board of the recently established Organization to advance the Common Welfare Economy.
Legend
Use the + and - icons to expand/collapse nodes
Hover over the square with lines to read attached notes
Well done!  
a short introduction to an alternative model to capitalism
Greenpeace
Occupy Wallstreet
Scrooge McDuck
Banks
Money Rules
Perhaps we need to think about a new way of Darwinism
Project Democratic Bank
will get started beginning of 2013
people and companies can contribute
403 companies
20 Energy fields
A political movement
A common welfare balance
Asking companies to do a welfare balance
Developed by company owners