Alexander Oswald
by
Dan Taylor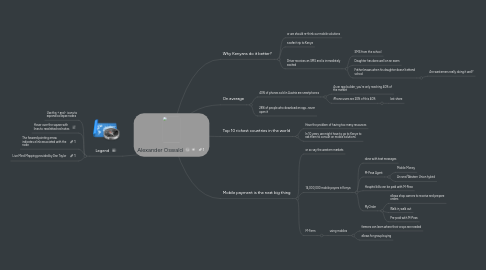 5.0
stars -
1
reviews range from
0
to
5
Alexander Oswald is a Senior Marketing Manager with 13 years Management experience in telecommunication and consumer electronics industry. He has worked for global brands in fast changing business environments, whilst having a focus on Central & South East Europe. At the present time he is Head of Marketing at Nokia, covering several countries, including Switzerland, Cyprus, Israel and of course Austria. Adding to his durable career path, Alexander is also co-author of the first handbook for mobile marketing and mobile campaigns in German language, "Mobile Marketing".
Legend
Use the + and - icons to expand/collapse nodes
Hover over the square with lines to read attached notes
Well done!  
Why Kenyans do it better?
or we should re-think our mobile solutions
a safari trip to Kenya
Driver receives an SMS and is immediately excited
SMS from the school
Daughter has done well on an exam
Father knows when his daughter doesn't attend school, Are westerners really doing it well?
On average
40% of phones sold in Austria are smartphones
As an app builder, you're only reaching 40% of the market
iPhone users are 20% of this 40%, lost share
28% of people who download an app...never open it
Top 10 richest countries in the world
Have the problem of having too many resources
In 10 years, we might have to go to Kenya to ask them to consult on mobile solutions
Mobile payment is the next big thing
or so say the western markets
14,000,000 mobile payers in Kenya
done with text messages
M-Pesa Agent, Mobile Money, An sms/Western Union hybrid
Hospital bills can be paid with M-Pesa
MyOrder, allows shop owners to receive and prepare orders, Walk in, walk out, Pre-paid with M-Pesa
M-Farm
using mobiles, farmers can learn where their crops are needed, allows for group buying