Albin Kurti
by
Dan Taylor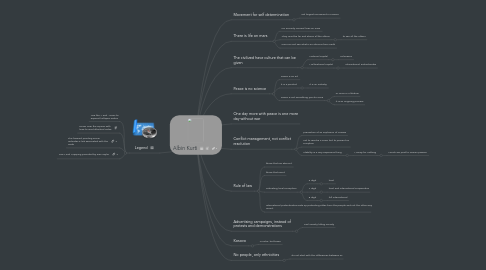 4.0
stars -
1
reviews range from
0
to
5
In August 1997, when Albin Kurti was 22 years old, he joined presidency of the Students Independent Union of the University of Prishtina (SIUUP), and soon after he became its International Officer. During the historic student demonstration in Prishtina on October 1, 1997, brutally repressed by Milosevic's police, Kurti was one of the protest leaders. During the NATO bombing of Serbia and Kosovo he was engaged in seeking a political solution to Kosovo's crisis and was arrested by Serbian police. After a 15 years sentence in 2000, Kurti was released in 2001 due to international pressure. Albin Kurti is currently an MP, the Chair of the Parliamentary Foreign Affairs Committee in the Republic of Kosovo, as well as the leader of the political movement, Lëvizja VETËVENDOSJE!.
Legend
Use the + and - icons to expand/collapse nodes
Hover over the square with lines to read attached notes
Well done!  
Movement for self determination
3rd largest movement in Kosovo
There is life on mars
UN security counsel lives on mars
They must be far and above all the others
One can not see what is so obvious from earth
The civilized have culture that can be given
National capital
Multinational capital
Peace is no science
Peace is no art
it is a product
Peace is not something you do once
One day more with peace is one more day without war
Conflict management, not conflict resolution
prevention of an explosion of crisises
not to resolve a crisis, but to prevent an erruption
Stability is a very expensive thing
Rule of law
those that are above it
those that aren't
Tolerating local corruption
international protectorates ends up protecting elites from the people and not the other way round.
Advertising campaigns, instead of protests and demonstrations
Civil society killing society
Kosovo
is Calm, but tense
No people, only ethnicities
do not start with the differences between us