Klaus Stadlmann
by
Dan Taylor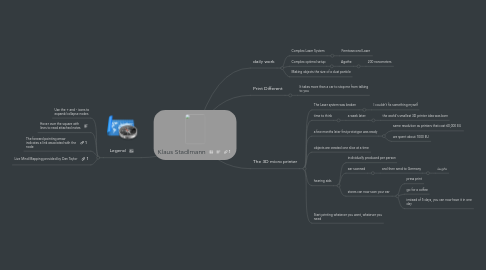 4.0
stars -
1
reviews range from
0
to
5
Klaus majored 2008 in industrial engineering at the TU Vienna. His degree thesis: "the development of an orthosis used in the supporting and measuring of a torque path of the ankle during rehabilitation" received special honors. At the moment he is finishing his pre-doc in technical sciences at Vienna's Technical University's Institute of Material Sciences and Technologies. Under the supervision of Prof. Stampfl he is involved in a working group concerned with the manufacturing of optical fibers.
daily work
Complex Laser System
Complex optimal setup
Making objects the size of a dust particle
Legend
Use the + and - icons to expand/collapse nodes
Hover over the square with lines to read attached notes
Well done!  
Print Different
It takes more than a car to stop me from talking to you
The 3D micro printer
The Laser system was broken
time to think
a few months later first prototype was ready
objects are created one slice at a time
hearing aids
Start printing whatever you want, whatever you need