Martin Kaltenbrunner
by
Dan Taylor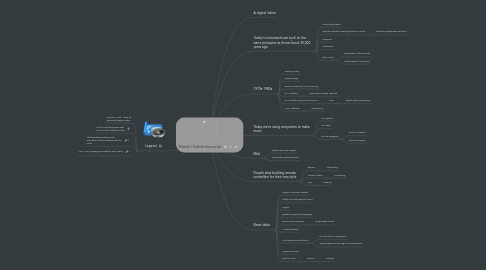 3.0
stars -
1
reviews range from
0
to
5
Martin Kaltenbrunner is Professor at the Interface Culture Lab at the University of Art and Design in Linz. Before his return to Austria he worked as researcher and lecturer at the Pompeu Fabra University in Barcelona, at the MIT Medialab Europe in Dublin, as well as further European universities. As co-founder of Reactable Systems he had been mainly responsible for the interaction design concepts behind the Reactable, which has been successfully introduced by renowned artists such as Björk. The instrument has been shown at several international media art and music festivals, and was awarded with the Golden Nica for Digital Music, two D&AD Yellow Pencils and the Prize of the City of Barcelona. Kaltenbrunner publishes in the context of human computer interaction conferences and his influential research on tangible interface tools has been employed for the realization of numerous artistic and scientific projects in that area.
Legend
Use the + and - icons to expand/collapse nodes
Hover over the square with lines to read attached notes
Well done!  
A digital luthier
Today's instruments are built on the same principles as those found 35,000 years ago
limited by physics
inventors started creating electronic music
the basic synthesizer was born
Theremin
Trautonium
Bob Moog
synthesizer to the masses
in the hands of musicians
1970s-1980s
analog circuits
Digital usage
took a weekend to record a song
DX7 Yamaha
even more masses reached
PC's enable many more to join in
DSP, digital signal processing
Max Matthews
Maximus PC
Today we're using computers to make music
it's capable
it's cheap
it's not engaging
for the audience
for the musician
Midi
started with pipe organs
a controller and a producer
People start building remote controllers for their own style
abucus
calculating
cocktail shaker
combining
clay
shaping
React table
tangible, physical objects
ability to build physical sound
Synths
graphic programing language
blocks have meaning
to generate sound
Visual feedback
a collaborative instrument
but intuitive for beginners
and professional enough for professionals
Legos for sound
also for iPad!
iPhone, Android