Karim El-Gawhary
by
Dan Taylor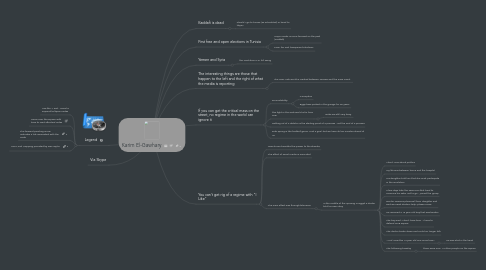 4.0
stars -
1
reviews range from
0
to
5
Since 2004, he heads the Middle Eastern office of the ORF in Cairo, Egypt. Mr. El-Gawhary was born in Munich, son of an Egyptian father and a German mother. Tributary to his activities at ORF, Karim works as Middle Eastern correspondent for eleven German-speaking Newspapers, f.e. Tageszeitung (Berlin), Presse (Wien), SonntagsZeitung (Zürich), Hannoversche Allgemeine or Stuttgarter Nachrichten to name a few. As a student, he activated as a free journalist in Cairo and Damascus. Karim studied Islamic Science and Politics at the FU-Berlin, with an emphasis on the Middle East. In 2011, Mr. El-Gawhary was assigned the Concordia Award for Freedom of the Press.
Kaddafi is dead
should I go to tunisia (as scheduled) or head to libya?
First free and open elections in Tunisia
major media is more focused on the past (Kaddafi)
Free, fair and transparent elections
Yemen and Syria
the revolution is in full swing
The interesting things are those that happen to the left and the right of what the media is reporting
The new Arab world is created between Tunesia and the Suez Canal.
If you can get the critical mass on the street, no regime in the world can ignore it
accountability
this fight in the arab world is far from over
Getting rid of a dictator is the starting point of a process , not the end of a process.
arab spring is like football game. Had a goal, but we have stil 82 minutes ahead of us.
You can't get rig of a regime with "I Like"
How do we translate this power to the streets?
The effect of social media is overrated
The main effect was through television
Legend
Use the + and - icons to expand/collapse nodes
Hover over the square with lines to read attached notes
Well done!  
Via Skype