BIOSURFACTANT PRODUCTION FROM CANDIDA LIPOLYTICA IN BIOREACTOR AND EVALUATION OF ITS TOXICITY FOR APPLICATION AS A BIOREMEDIATION AGENT.
by Jannie Angel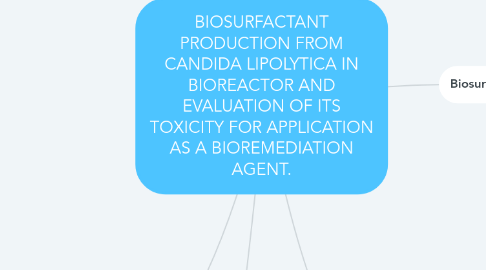 1. Introduction
1.1. Produces in shake flasks
1.2. Properties to produce biosurfactants:
1.2.1. emulsification activity
1.2.2. stability
1.3. Environmental factors will be reported
2. Biosurfactant production
2.1. C. lipolytica is a secondary microbial metabolic process
2.2. Biosurfactant yields were higher in shake flasks than in bioreactors
2.3. Production profiles for the biosurfactant from C. Lipolytica were very similar in both 2 and 50 L bioreactors, although the biosurfactant yield and surface tension had reached 40 g/L and 25 mN/m in the 50 L bioreactor
2.4. The final concentration of biosurfactants were lower in residual broth of larger fermentation vessels
2.5. Due to removal of the surfactant through the foam and concentrated in this fraction.
2.6. No foam resulting from biosurfactant production in the conditions of this work, so the production was higher in the larger vessel
3. Chemical Analysis of Cell
3.1. The biomass obtained in fermentation processes are generally sold as a component of animal nutrition.
3.2. Protein: 25%, Carbohydrate: 15% and Lipids: 20%
3.3. Higher lipids compared to the yeasts that grow in the presence of carbohydrates (10.5%)
3.3.1. but not as high as oleaginous yeasts, with reported values around 32–72%
3.4. The possibility of applying the biomass of C. lipolytica for animal nutrition
4. Biosurfactant characterization
4.1. Characterized by FT-IR and NMR analyses
4.2. IR spectrum (Fig. 2) showed a stretch region between the ranges of 3000–35000 cm−1, indicating the presence of hydroxyl groups in a carboxylic acid junction
4.3. Carbonyl group (C=O) was detected in 1711.29 cm−1 and aliphatic carbon bonds in 2855–3010 cm−1 regions
4.4. Characteristic pick of carboxylic acid in 180 ppm, double bonds picks between 120 and 140 ppm and aliphatic carbons in 10–40 ppm region
4.5. biomolecule of surfactant is metabolized
4.6. Carboxylic acid probably linked to carbohydrates, which are glycolipids
4.7. Similar to the ones obtained for the characterization of biosurfactants isolated from yeast species cultivated in diesel oil
5. Comparison of biosurfactant production by Candida sp. in bioreactors
5.1. Limiting factor is the economics of large-scale production.
5.2. Compete with synthetic surfactants, which are typically sold at lower prices
5.3. low cost substrates
5.4. Increased product yields and reducing total processing time
5.5. Reduced production costs
5.6. Preparation of culture media for production of biosurfactants
5.7. Media containing glucose, yeast extract, urea and a hydrophobic compound
5.8. Influence of culture conditions including agitation, aeration and time of cultivation were evaluated in the production of biosurfactant from a culture medium with composition previously established
5.9. Temperature maintained at 28 ◦C reduces cooling cocts and hinder fat mixing
5.10. Maintenance of pH during cultivation minimizes cost and cell lysis
5.11. Absence of aeration
5.12. Maximum yield and rate of production obtained in this study are inferior, while the cultivation time is within the ranges
5.13. Surface tension is favourable, indicating more efficient production of a surfactant when compared to the others
5.14. But, ability of bioreactors and agitation speeds differ greatly from those used in this work
5.15. Media described include glucose, yeast extract, vegetable oils and fatty acids, which inevitably will favour the results, but higher costs
5.16. Inclusion of molasses as a low-cost substrate to increase yield
6. Toxicity of biosurfactant
6.1. Seeds germination occurred even in the presence of high concentrations of the isolated biosurfactant
6.2. Crude biosurfactant also did not show inhibitory effects to the vegetable species
6.3. Possibility of using the biosurfactant in soil remediation
6.4. Increasing the concentration of the surfactant reduced the percentage of seed germination
6.5. Acute toxicity bioassay studies were conducted using brine shrimp and a bivalve
6.6. Brine shrimp larvae Artemia salina and the bivalve Anomalocardia brasiliana subjected to different dilutions of the crude biosurfactant for 24 and 96 showed 100% survival
6.7. Potential of crude biosurfactant for use in aquatic environments
6.8. No mortality with isolated biosurfactant solutions from 0.02 to 0.06% but the biosurfactant solution at 0.08% killed 100% of the larvae
7. Bioremidiation tests
7.1. Presence of the biosurfactant from C. lipolytica favoured the growth of microorganisms in seawater
7.2. Increased growth of bacteria in the presence of the highest concentration of the biosurfactant
7.3. Solution of biosurfactant in the lower concentration stimulated fungi growth but growth reduced in absence of biosurfactant
7.4. Stimulation of oil degradation by the biosurfactant affected by dispersion of oil and the increase in the number of cells that utilized the biosurfactant and nutrients derived from the culture broth