Ecosystem
by Reyab Saluja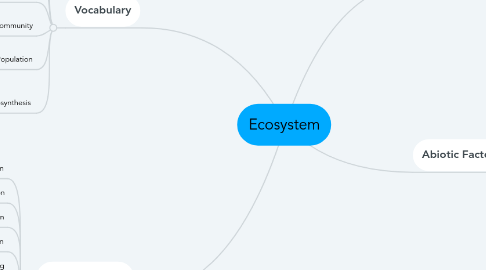 1. Biotic Factors
1.1. Disease
1.2. Parasitism
1.3. Consumption
1.4. Symbiosis
1.5. Predation
2. Abiotic Factors
2.1. Rain
2.2. Wind
2.3. Temperature
2.4. Altitude
2.5. Soil
2.6. Pollution
2.7. Nutrients
2.8. pH
2.9. Sunlight
3. Vocabulary
3.1. Decomposer
3.1.1. Feeds on plants and animals remains after they die.
3.2. Consumer
3.2.1. Eats other living things for energy.
3.3. Producer
3.3.1. Living things that make their own food.
3.4. Ecosystem
3.4.1. Groups of living things and the environment they live in.
3.5. Community
3.5.1. All the populations that live in the same area.
3.6. Population
3.6.1. A group of the same species living in the same place at the same time.
3.7. Photosynthesis
3.7.1. The process in which green plants and some other organisms use sunlight to synthesize foods from carbon dioxide and water.
4. Human Impacts
4.1. Pollution
4.2. Ocean Acidification
4.3. Over Exploitation
4.4. Deforestation
4.5. Global Warming
4.6. Biodiversity Loss
4.7. Mass Extiniction
4.8. Ecological Crisis
4.9. Human Over Population
4.10. Loss Of Natural Recources