TESTING AND EVALUATION
by LOTUS NAVARRETE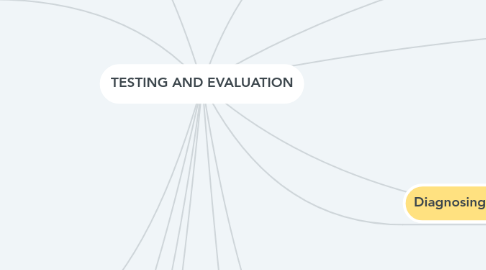 1. Diagnostic tests of listening which can be given in class or in a language laboratory, should test the learner's ability to distinguish both segmental and suprasegmental features.
1.1. This can be done in a number of ways
1.1.1. Consonant-vowel discrimination
1.1.2. Word stress
1.1.3. Prominence
1.1.4. Intonation
1.1.5. Reduced speech
2. Conclusion:
2.1. The issue of feedback and evaluation is a crucial one in the teaching of pronunciation.
3. Most important, teachers should take special care not to set unrealistic goals or judge progress unrealistically.
4. By applying rules, learners can demostrate their understanding of how a particular feature operates, even though their ability to perceive and/or produce this feature may still be developing.
5. Diagnostic evaluation
5.1. Diagnostic evaluation of pronunciation determinates learner's level of profienciency for the purposes of screening. Within a particular course, diagnostic evaluaution is also the teacher's initial method.
6. Diagnosing perception
7. Diagnosing production in the classrooom
7.1. A standardized sample of the learner reading aloud
7.1.1. This is a studen'ts command of pronunciation features that might not necessarily occur in a natural speech context.
7.2. A sample of the learner's free speech
7.2.1. In this case students focus primarily on meaning rather than for reasessment of the impressions gained from the analysis of the diagnostic passage.
8. Formal oral- proficiency testing instruments
8.1. This has a diagnostic purposes of selection, most focus on spoken production but in some cases, an indirect evaluation or perception as well . Speaking tasks range from reading aloud or answering a question to carrying on a conversation.
9. There are some speaking exams such as
9.1. TOEFL IBT SPEAKING
9.2. INTERNATIONAL ENGLISH LANGUAGE TESTING SYSTEM (IELTS)
9.3. VERSANT
9.4. INTERAGENCY LANGUAGE ROUNDTABLE (ILR)
9.5. ORAL PROFICIENCY INTERVIEW (OPI) AND RATING SCALE
9.6. PROFICIENCY INTERVIEW AND ACTFL PROFICIENCY GUIDELINES
9.7. UCLA TEST OF ORAL PROFICIENCY (TOP) FOR INTERNATIONAL TEACHING ASSISTANTS
10. ONGOING EVALUATION WITH FEEDBACK
10.1. The purposes is to determinate the process students are making in order to provide as much individualization as possible
10.1.1. SELF MONITORING AND CORRECTION
10.1.1.1. Self Monitoring and Self Correction Self Monitoring The ability of a student to self-monitor his or her performance is a natural step toward becoming independent.
10.1.2. PEER FEEDBACK
10.1.2.1. It is useful to have a partner because they can help you to learn in a different way and share their knowledges. This helps to share pronunciation in some words that they can to pronounce.
10.1.3. TEACHER FEEDBACK AND CORRECTION
10.1.3.1. Teacher will not want to interrump each speaker every time and error is made. The teacher mades a feedback adn students feel better to receive instructions and feedback. Students listen the teacher feedback and instruction about mistakes.
11. Tests of phonetic knowledge
11.1. By applying rules, learners are asked to apply rules they have learned.
12. Tests of production
12.1. Test of production should focus on features that have been laught in class
12.1.1. As paet of teh classroom test, instructors may also wish evaluate the learners' control of pronunciation when not focusing exclusively on form
13. Tests of perception
13.1. Consonant and vowel consonation
13.2. Word stress
13.2.1. Sentence stress and prominance
13.2.2. Intonation
13.2.3. Reduced speech