Lola Gilbert | u02d2 Authoring Tools Comparison Mind Map : Authorware 7 vs. Lectora Inspire
by Lola Francis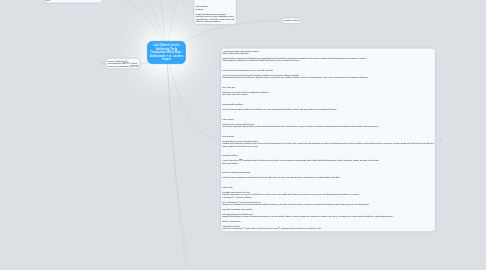 1. AUDIO Authorware 7: Add narration, music, and sound effects to e-learning applications by incorporating MP3 streaming audio. Lectora Inspire: Record and edit audio files instantly using a built-in or external microphone, which can be saved to Flash format
2. AUTHORING FEATURES Lectora Inspire: Tablet and Mobile Templates Quickly deliver training to mobile learners using dozens of new tablet and mobile templates in the Lectora intuitive rapid development environment. Lectora offers seamless publishing to mobile and tablet devices such as the iPad and iPhone. Internal Content Organization & User Friendly Interface Lectora's layout and user-friendly interface enables you to maintain efficient content organization for faster development and file access. Customize your toolbars, dock or float the Title Explorer, and create a work space that maximizes efficiency. Tip of the Day Enhance your Lectora skills by reading a helpful tip each time you open Lectora. Customizable Toolbars Pick and choose which toolbars and toolbar icons you want displayed within Lectora and move them to your desired location. Help Agents Quickly learn Lectora with the new interactive video help guides that provide animated tutorials on the key features in Lectora to help you begin creating content immediately with virtually no learning curve. Title Wizards Choose from an array of professionally created Title Wizards to quickly create the look and framework of your title, thus saving time and providing you with a starting point for content creation. Each wizard serves as a content creation guide and will walk you through the steps needed to complete your course. Template Gallery Access more than 250 templates directly within Lectora, which are conveniently categorized and include helpful descriptions of each template. Makes creating a title easier than ever before! External Content Organization Lectora copies, organizes, and stores all necessary files into one easy-to-access directory, saving time in locating folders and files. Help Guide Provides instructional and user friendly information on Lectora and links out to the Lectora User Guide and Lectora Community Forum so you can find answers and advice on Lectora. Authorware 7: Intuitive Flowline: The Authorware 7 visual interface lets you develop rich-media e-learning applications without scripting. Just drag and drop icons to create your application's logical outline, and use menus to add content. Powerful Templates and Wizards: Take advantage of templates and wizards that address common learning functionality, such as student logons, course frameworks, questions, quizzes, and more. Or create your own reusable models or Knowledge Objects. Built-In Interactivity: Interactivity is built right into Authorware 7. Add content, and then choose from 11 response types to bring your content to life.
2.1. New node
3. Teaching Features
4. Student Features
5. ASSESSMENT AND TESTING FEATURES: Lectora Inspire: Grading and Results Tracking Submit assessment scores and results instantly via e-mail to multiple addresses, CGI, XML, AICC, or SCORM. Provides seamless integration with any standards-based learning management system. Customizable Questions and Tests Control the color and layout of tests and assessments by including a wide array of multimedia and interactivity. Also, create weighted questions for enhanced flexibility and specify whether you would like to round up or down in order to round the scores of tests, combined tests, and surveys involving numbers. Bulk Question Importer Import already existing questions and files stored in access databases, excel spreadsheets, or flat files, saving time and effort in creating questions.
6. VIDEO: Authorware 7: Lectora Inspire: Eliminate the need for users to download videos within a course by streaming Flash videos from any location on the Web. Enable learners to conveniently play a YouTube video directly in a Lectora title.
7. Compatibility
8. Support
9. COSTS Authorware 7: Approximately $400.00 Lectora Inspire: Approximately $2,500.00
9.1. New node