DRACULA
by Semihs Okut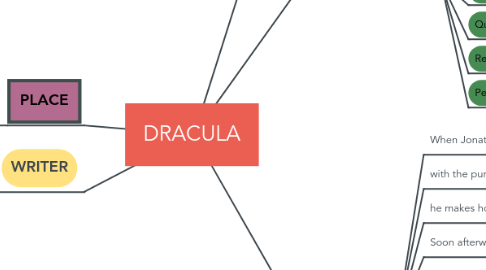 1. CHARACHER
1.1. Kont Dracula
1.2. Jonathan Harker
1.3. Murray Harker
1.4. Dr.Jack Seward
1.5. Arthur Holmwood
1.6. Lucy Westenra
1.7. Quincey P. Morris
1.8. Renfield
1.9. Peter Hawkings
2. WRITER
2.1. Braem Stoker
3. THEME
3.1. Vampires
4. EVENT
4.1. When Jonathan Harker visits Transylvania 
4.2. with the purchase of a London house,
4.3. he makes horrifying discoveries about his client and his castle
4.4. Soon afterwards, a number of disturbing incidents unfold in England
4.5. an unmanned ship is wrecked at Whitby; 
4.6. strange puncture marks appear on a young woman's neck;
4.7. and the inmate of a lunatic asylum raves about the imminent arrival of his 'Master'.
4.8. In the ensuing battle of wits between the sinister Count Dracula
4.9. and a determined group of adversaries,
4.10. Bram Stoker created a masterpiece of the horror genre
4.11. probing deeply into questions of human identity and sanity
4.12. and illuminating dark corners of Victorian sexuality and desire.
5. PLACE
5.1. Transylvania