The Five Most Important Questions You Will Ever Ask About Your Organization
by MindMeister Public Maps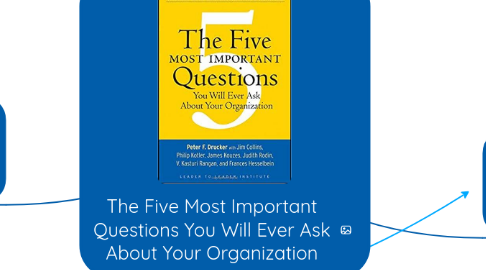 1. 3) WHAT DOES OUR CUSTOMER VALUE?
1.1. Get valuable feedback directly, rather than assuming what your customers want
1.2. Once you know what your customers value, you can effectively meet their needs
1.3. Don't forget the opinions of your supporting customers!
2. 4) WHAT ARE OUR RESULTS?
2.1. Good leadership needs to know what needs to be fixed in order to achieve the organization's mission
2.2. Long-term success often comes from short-term accomplishments
2.2.1. Be sure to both think long- and short-term!
2.3. Check both qualitative and quantitative results
2.3.1. Qualitative
2.3.1.1. Subjective, about the customers' experience
2.3.2. Quantitative
2.3.2.1. Focus on statistics and numerical data
3. 5) WHAT IS OUR PLAN?
3.1. A good plan includes your mission, vision, goals, objectives, action steps, budget and results
3.2. A smart set of goals corresponds to your desired future
3.2.1. Don't focus on more than 5 goals, otherwise you're spread too thin!
3.3. Lay out your goals in a way that translates into concrete steps, leading to specific objectives
3.4. Plans, goals and action steps shouldn't be written in stone. If circumstances change, adapt!
4. ABOUT THIS BOOK
4.1. Publisher
4.1.1. Jossey-Bass
4.2. Published in 2008 (posthumous)
4.3. Author
4.3.1. Peter Ferdinand Drucker
4.3.1.1. 1909-2005
4.3.1.2. Considered a top management thinker of his time.
4.3.1.3. Wrote over 25 books
4.3.1.3.1. e.g. The End of Economic Man (1939)
4.3.1.4. His ideas have had an enormous impact on shaping the modern corporation.
4.4. Get the book on Amazon
5. 1) WHAT IS OUR MISSION?
5.1. Identifies your organization's objectives and goals
5.2. Your mission statement...
5.2.1. Should be accurate and concise enough to fit on a t-shirt
5.2.2. Should reflect the commitment, ability and hope of your organization
5.2.3. Helps you keep your core objectives in mind
5.2.4. Can help you decide whether an opportunity is right for you
6. 2) WHO IS OUR CUSTOMER?
6.1. Need to distinguish between primary customers and supporting customers
6.1.1. A primary customer is someone whose life is directly affected by your product / service
6.1.2. A supporting customer is somebody you want to satisfy, but isn't the focus of your mission
6.1.2.1. Example: School principal
6.1.2.1.1. His primary customers are the student
6.1.2.1.2. Secondary customers include teachers, parents, the school board etc.
6.1.3. Focus on the primary, but make sure the supporting customers aren't neglected