Myers Chiropractic Overall Vision Updated 2020 through 2025
by Jeromy Myers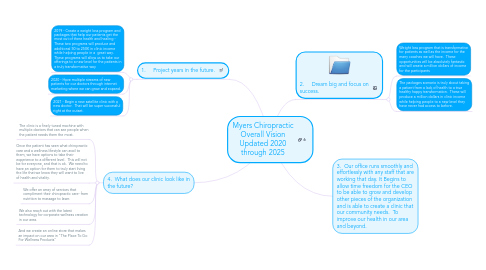 1. 2. Dream big and focus on success.
1.1. Weight loss program that is transformative for patients as well as the income for the many coaches we will have. These opportunities will be absolutely fantastic and will create a million dollars of income for the participants
1.2. The packages scenario is truly about taking a patient from a lack of health to a true healthy happy transformation. These will produce a million dollars in clinic income while helping people to a new level they have never had access to before.
2. 1. Project years in the future.
2.1. 2019 - Create a weight loss program and packages that help our patients get the most out of there health and healing - These two programs will produce and additional 50 to 250K in clinic income while helping people in a great way. These programs will allow us to take our offerings to a new level for the patients in a truly transformative way.
2.2. 2020 - Have multiple streams of new patients for our doctors through internet marketing where we can grow and expand.
2.3. 2021 - Begin a new satellite clinic with a new doctor. That will be super successful right at the outset.
3. 3. Our office runs smoothly and effortlessly with any staff that are working that day. It Begins to allow time freedom for the CEO to be able to grow and develop other pieces of the organization and is able to create a clinic that our community needs. To improve our health in our area and beyond.
4. 4. What does our clinic look like in the future?
4.1. The clinic is a finely tuned machine with multiple doctors that can see people when the patient needs them the most.
4.2. Once the patient has seen what chiropractic care and a wellness lifestyle can avail to them, we have options to take their experience to a different level. This will not be for everyone, and that is ok. We need to have an option for them to truly start living the life that we know they will want to live of health and vitality.
4.3. We offer an array of services that compliment their chiropractic care- from nutrition to massage to laser.
4.4. We also reach out with the latest technology for corporate wellness creation in our area.
4.5. And we create an online store that makes an impact on our area in "The Place To Go For Wellness Products"