Camilo Tavera
by Camilo Tavera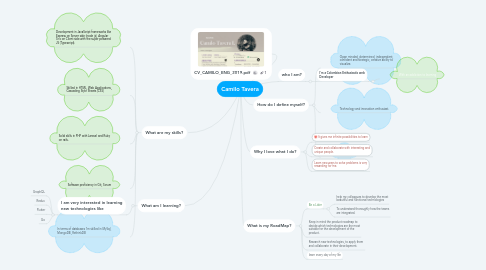 1. How do I define myself?
1.1. Open minded, determined, independent, confident and strategic, creative ability to visualize.
1.2. Technology and innovation enthusiast.
1.3. a Geek
2. Why I love what I do?
2.1. It gives me infinite possibilities to learn
2.2. Create and collaborate with interesting and unique people.
2.3. Learn new ways to solve problems is very rewarding for me.
3. who I am?
3.1. I'm a Colombian Enthusiastic web Developer
3.1.1. With an addiction to learning
4. CV_CAMILO_ENG_2019.pdf
5. What are my skills?
5.1. Development in JavaScript frameworks like Express on Server side (node js), Angular 5>x on Client side with the super powered JS (Typescript).
5.2. Skilled in HTML, Web Applications, Cascading Style Sheets (CSS)
5.3. Solid skills in PHP with Laravel and Ruby on rails.
5.4. Software proficiency in Git, Scrum
5.5. In terms of databases I'm skilled in MySql, MongoDB, RethinkDB
6. What am I learning?
6.1. I am very interested in learning new technologies like
6.1.1. GraphQL
6.1.2. Redux
6.1.3. Flutter
6.1.4. Go
7. What is my RoadMap?
7.1. Be a Lider
7.1.1. help my colleagues to develop the most beautiful and functional technologies
7.1.2. To understand thoroughly how the teams are integrated.
7.2. Keep in mind the product roadmap to decide which technologies are the most suitable for the development of the product.
7.3. Research new technologies, to apply them and collaborate in their development.
7.4. learn every day of my life