DIGITAL INSTRUCTION & COMMUNICATION
by
The Media Spot, LLC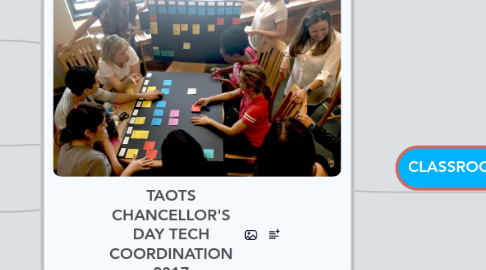 0.0
stars -
0
reviews range from
0
to
5
DIGITAL INSTRUCTION & COMMUNICATION
MEDIA LITERACY CLUSTER
Google Apps for Education Management
Create account, change passwords, access the spreadsheet.
manage student accounts
manage Hapara setup for teacher dashboard
teach kids to use it in class
collaborate on staff PD with Rhys
Media Marketing for the School
Posts on the website
Photography at school events
Promotional video productions
Posting student work from the lab
Teaching teachers to post student work from classrooms
Media Literacy (Tech) Cluster
Manage Schedule to follow K-5 Scope & Sequence, here's a working guide for this that rhys is working on with 3 other schools...
Plan Integrated Curriculum Projects, Coordinate with classroom teachers on student productions that build on classroom content, Encouraging teachers to use skills kids know in the classroom, K-1 independent work on skill-building websites, 2-3 typing practice and Google Docs, 4: typing all work in Google Docs Accounts;, Workshop: Grade Team Planning Goals, goal: get a feel for target student skills you're focusing on & project opportunities for the year, timelines, class management, tools involved, how it enhances your current teaching goals, goal: think about the potential benefits of digital learning logs, and student portfolios in your practice, goal: think about how media literacy & digital skills could enhance the teaching of your essential questions and standards
Cybercafe Maintenance, New Macbook Airs (28), set up one machine as the ideal image, setting the dock, reimaging all machines???, setting home pages on all Airs, each grade has a login (password "gradeX", setting up login per grade, iPads (13) for Center or Intensive K, Remote Desktop (?)
Manage Class Website, Class Website, Info & links for Parents & Kids, published student work, daily lessons or "do nows" for kids, the hub of your curriculum, Google Drive, peer editing, shared work with their classroom teachers, Kidblogs.org, Kids publishg to personal blogs, managed by teacher account, Edmodo, class conversations, like facebook for your class, free flow of kids interaction without outside danger
Manage Google Drive folders for student work
Manage student software accounts, Vimeo Video Account, Voicethread, Edmodo, Glogster (g = google account sign in), Kidbolog.org (g), Mindmeister (g), Prezi, Google Apps for Education, Student Accounts, Hapara
Develop Class Management Strategies, pac man, setup/breakdown, give 5th graders updating tasks, how will kids log in to these apps, group kids when something has a lot of steps or is complicated., always using the same number
Document This! ECluster
PD with Rhys
PD Plan 2012-13, Google Apps Docs/Drive Workshop (September 2012), Google Sites Workshop, Workshop 1 Goals, Understand why "The Cloud" makes sense, Learn how shared "Folders" work, Learn the basics of "Docs", Upload, share and edit some shared documents, Workshop 1 Agenda, 1 laptop per grade team, Log in to Google Apps (start at www.taots.org), Open Google Docs (click "Documents" at top of page), Open "Collections Shared with me" on the left side, Expand that folder with the arrow on the left, Click the TAOTS Docs Portal (a.k.a. "Collection"), Find the "TAOTS Tech Binder" Collection, Open the Media Literacy Unit Planner document, help your neighbor, pac man, Rhys demo's how to leave a comment in Google Docs, Insert + Comment, OR on keyboard: Command+Option+M, Everyone try it, iMovie Workshop (November 6th)
PD Plan 2013-2014, Assist Diana with Scope and Sequence and introducing new tools weekly in tech cluster, Help Diana link tech cluster with Science and regular curriculum weekly., Create "document this" cluster with Diana, Continue making short documentaries with 4th and 5th graders
HOME-SCHOOL COMMUNICATION
Google Apps Administration
Adding email accounts
Changing passwords
Train Josephine/Maria to do this
Sharing documents in Google Drive
Ioanna, Mary & Diana have been trained
Teresa manages curriculum documents
Making signs for events
Melissa, Nicole
Staff Videos
recording lessons
guest speakers & events
Rhys, Tatiana?
Calendars
Public Calendar
TBD: Equipment Checkout Calendar, model is the Campus Calendar, each grade level gets cart 1x month, classes with the cart need a checklist of how to close it up at the end of the day
Faculty Calendar
Campus Calendar, Nicole, Josephine, Maria, Sandro, Mellissa
Websites
Class Website Updates (Teachers), Book of the Month
Embedding Videos/Slideshows, Vimeo school account, Picasa Slidshows on Class sites, Wordpress "galleries" on main website
Public Website, Website Announcements (ND, JSG, MR), Event Photos, Event Videos
TECH SUPPORT
Has been Mary/Rhys, Could be a CUNY Intern
Fixing Smartboards
Log in to DOE website
Google the issue
Call John at Teq (877.455.9369 (ext. 1113)
Use the Tech Binder in Google Docs
Updating Software
Printing Problems
Calling in support tickets to Help Desk
needs to be teachers
Develop & PD around Tech Support Folder in Google Docs (Rhys, Ioanna, Diana)
Smartboard Troubleshooting
Software updates
Calling in support tickets to Help Desk
Tracking Inventory
Equipment management
Create an equipment sharing system using Google Calendar and Forms
Laptop sharing
Laptop Carts, Moving the cart (TAs & Paras), Use Google Calendar (on Daily Messages Page), Cyber Cafe on 3rd Floor, scheduled access weekly in program card, open access
Camera sharing, Each NEST grade level gets a flip cam
CLASSROOM TEACHER'S DIGITAL LIFE
Home-School Communication
Class Sites, Homework, News, Schedule, Field Trips, Curriculum (Essential Question), Student Work, Photos
Newsletters
Email?
Taots.org, school community news etc., specialty class blogs
Staff Communication
Google Drive, Access shared curriculum, program cards, etc., Progress reports, Collaborate on meeting minutes???, ...???
Daily Messages, Jo's blog, Coaches' blog, PD notes, links to Curriculum
Google Calendar, Staff, Community
Classroom tools
Laptop Centers (coming soon), what could we use them for...?
Desktop Centers, used for...
Smartboard
Printers
Student digital work
Connect digital class activities with skills learned in Mary's cluster
Mary overlap research and activity sites with teacher goals
Goal: choose 1 unit to overlap goals with Mary's cluster through a digital project
Challenges to address
Computers that can't access Google Drive