BEST INNOVATION GRANT Leveraging Media Literacy to develop Personalized Learning Plans
by The Media Spot, LLC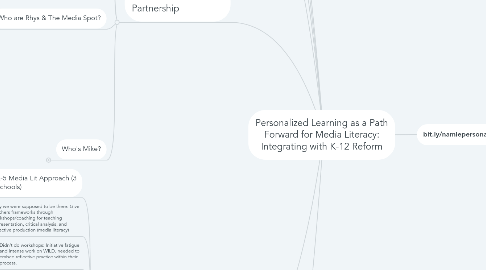 1. WSWSU-TMS Goals
1.1. Multiple Pathways to Transferrable Skills
1.2. Use the successful WILD project
1.2.1. do what you're doing now, but do the work to extract the parts that make it work so that it can be inquiry driven in the future?
1.2.2. what did kids gravitate towards?
1.2.3. making relationships with people that are doing well?
1.2.4. Post-performance
1.2.5. Create a model of something -- document
1.3. Kids in 3+ - taking pictures of stuff and making it part of their learning
1.4. 3 Schools
1.4.1. Twin Valley E
1.4.2. TVMHS
1.4.3. Sara
1.4.3.1. Structure to collab with classroom teachers
1.4.3.2. skills work to prep kids for test and plp systems
1.5. Steps
1.5.1. send each school a rough proposal and ask to meet with assumed players and players they would like to involve.
1.5.2. afterschool session for teacher PLPs
1.5.2.1. bring artifacts
1.5.2.2. we're going to think about how we reflect on that to build towards the next step; what went wrong; how it informs what's next
1.5.3. meet to plan and look at systems, tools, gset goals
1.6. Who are Rhys & The Media Spot?
2. TVES
2.1. State tests tech prep
2.1.1. Trisha leading
2.1.2. Identify test prep skills in the ISTE Standards
2.1.2.1. click, drag... etc.
2.1.2.2. reading on screens
2.1.2.3. fine motor
2.1.3. Tricia sets it up in Tech
2.2. PLP
2.2.1. ISTE Tech Skills Continuum
2.2.2. Mapping skills/fundamental 5?)/PLP goals activities & projects 2-5
2.2.2.1. Tie into Goal setting
2.2.2.2. Reflection but also Self-Expression for kids
2.2.2.2.1. Parent, teachers, and SELF knowing me... I'm changing...
2.2.2.2.2. Imagination is a passport to reality
2.2.2.2.3. writing yourself into existence
2.2.3. Portfolio Google Site is the Curated Space/Classroom-Drive is capturing throughout
2.2.4. Grades 4-5 -- Organizational Challenges
2.2.4.1. logistics
2.2.4.2. need to be sold that it's making life easier
2.2.4.3. "not time"
2.2.5. Teacher PLPs are happening in different modes, but they aren't sold on the purpose
2.2.5.1. Documenting what they are trying for Fundamental 5 goals. They should be uploading reports to the Teacher PLP. Prepping them for the
2.2.6. Opening up small group collaboration, self-direction, etc.
2.3. Logistics
2.3.1. Tech Time with Trish Each Week
2.3.2. Meet with teachers on road blocks
2.3.3. Meet with Trish to make a scope and sequence
2.3.3.1. PLP Practices
2.3.4. FRIDAYS
2.3.4.1. 4-5 grades meet on Fridays
3. TVHS
4. Readsboro/Halifax
4.1. Library Media & Curriculum Map Review
4.1.1. Goal: see where her program can extend and support core curriculum
4.1.2. Goal: note where technology is or can potentially be used to support these initiatives, and work backwards to map them using this (linked) curriculum planning template:
4.1.3. Goal: once the map is sketched out, backwards map in the ISTE tech standards -- prioritizing those that support computer-based testing skills