MOVEMENT
by Arshia Bhatia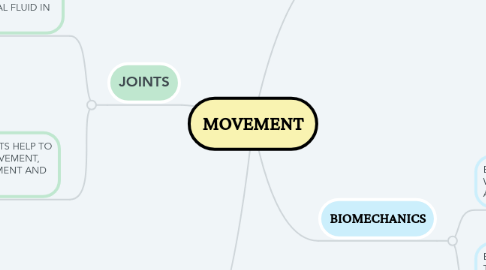 1. SKELETON
1.1. IDENTIFY PARTS OF THE HUMAN SKELETON
1.1.1. Labeled parts of the skeleton on page 2 of E-book and page 32 of CGP book
1.2. LINK STRUCTURE AND FUNCTION OF PARTS OF BONE
1.2.1. The compact bone gives the strength of the bone by being made up of the minerals calcium and phosphate.
1.2.2. Spongy bone cartilage has an ability to be compressed and gives smoothness of movement because the living cells in the spongy bone build and repair bones making them difficult to break.
1.2.3. Bone marrow produces blood cells by using the specialised cells it contains to create blood cells.
1.3. ANALYSE WHICH MATERIALS IN BONE
1.3.1. The collagen in the bone makes it flexible. Without it, the bone is easier to snap.
1.3.2. The calcium phosphate gives the bone its strength. Without it the bone is bendy and squishy.
2. BIOMECHANICS
2.1. EXPLAIN HOW BONES AND MUSCLES WORK TOGETHER TO CREATE SUPPORT AND MOVEMENT
2.1.1. Muscles are connected to bones through tough bands called tendons.
2.1.2. As you contract your muscle, a force is applied to the bone it's attached to. This makes the bone move.
2.2. EXPLAIN HOW LIGAMENTS AND TENDONS FUNCTION WITH BONES AND MUSCLES WITHIN OUR BODY
2.2.1. Ligaments connect two bones together.
2.2.2. Tendons are used to attach muscles to bones.
3. ANTAGONISTIC MUSCLES
3.1. IDENTIFY ANTAGONISTIC MUSCLES
3.1.1. Biceps and Triceps
3.1.2. Quadriceps and Hamstrings
3.1.3. Hip abductor and Hip adductor
3.2. ANALYSE HOW THE MOVEMENT OF ANTAGONISTIC MUSCLE AFFECTS THE MOVEMENT OF THE OPPOSITE MUSCLE.
3.2.1. As one contacts, the other one relaxes
3.2.2. Contacts - shorter and fatter
3.2.3. Relaxes - longer and thinner
4. JOINTS
4.1. STATE THE FUNCTION OF CARTILAGE, LIGAMENTS AND SYNOVIAL FLUID IN JOINTS.
4.1.1. Tendons are used to attach muscles to bones.
4.1.2. Ligaments connect two bones together.
4.1.3. Synovial Capsule prevents two bones from rubbing together.
4.1.4. Cartilage lets the bones move smoothly and painlessly.
4.2. EXPLAIN HOW THESE PARTS HELP TO CREATE STABILITY OF MOVEMENT, SMOOTHNESS OF MOVEMENT AND PREVENT INJURY.
4.2.1. Tendons help the stability of movement.
4.2.2. Ligaments absorb shock helping the smoothness of movement.
4.2.3. Synovial prevents injury, and smoothness of movement.
4.2.4. Cartilage helps reduce friction.