WHAT IS TECHNOLOGY?
by Alyssa Maglalang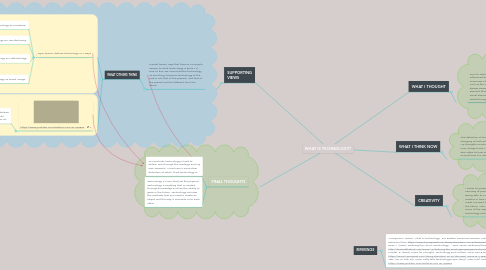 1. FINAL THOUGHTS
1.1. To conclude, technology is hard to define. But through the readings and my own research, I now have a more clear definition of what I think technology is:
1.2. Technology is more that just the physical. Technology is anything that is created through knowledge and has the ability to grow in the future. Technology includes the methods that are used to create an object and the way it connects us to each other.
2. WHAT I THINK NOW
2.1. The definition of technology is constantly changing as technology grows over time. My thoughts on what technology is, has now changed and I can see how technology also refers to how something is made and not just how it is used.
2.1.1. To further explain this, the word technology derives from Greek with "techne" meaning art, craft, or method, and "logos" meaning reason or balance, therefore technology is the "ordered principle [of] how something is made" (Anonymous, 2000, para.1).
2.1.1.1. Technology is NOT limited to just the physical hardware that we use, but also the knowledge, building and connectivity of technology.
3. WHAT I THOUGHT
3.1. Prior to starting this course, my view on technology was influenced by how our world has changed since my first memories of experiencing technology on a major scale, such as the creation of the first iPhone. Since then, I have always viewed technology as having 2 forms: a physical element that helps us live our day to day lives, and a social element such as apps that help us connect with the world through the use of the internet.
3.1.1. PHYSICAL
3.1.2. SOCIAL
4. CREATIVITY
4.1. I chose to present this discussion as a mind map because this was a new way of presenting information that I have never used before. Being able to organize my thoughts in a way that allowed me to be creative in how I use colours, pictures, and links to show my research made me want to think of other ways I could present information in the future. Also, learning how to use the mind map encompasses some of the aspects I have learned through my research of technology such as looking at technology as methodology.
5. REFERENCES
5.1. Anonymous. (2000). What is 'technology'. Far Eastern Economic Review, 163(15), 78. Retrieved from https://search-proquest-com.library.sheridanc.on.ca/docview/208238510 Dyer, J. (2009). Defining the Word "Technology"…Four Times. Retrieved from http://donteatthefruit.com/2009/12/defining-the-word-%E2%80%9Ctechnology%E2%80%9D-%E2%80%A6-four-times/ Friedel, R. (2002). Food for Thought. Technology and Culture, 43(4), 842-845. Retrieved from https://search-proquest-com.library.sheridanc.on.ca/docview/198434211?&accountid=3455 TED. (2010, Feb 22). Kevin Kelly tells technology's epic story [Video File]. Retrieved from https://www.youtube.com/watch?v=GS1xL1qcBa4
6. SUPPORTING VIEWS
6.1. Friedel (2002), says that there is no simple answer to what technology is (para.11). Due to this, we cannot define technology as one thing, because technology of the past is not that of the present, and that of the present will be different from the future.
6.1.1. WHAT OTHERS THINK
6.1.1.1. Dyer (2009), defines technology in 4 ways
6.1.1.1.1. Technology as Hardware:
6.1.1.1.2. Technology as Manufacturing:
6.1.1.1.3. Technology as Methodology:
6.1.1.1.4. Technology as Social Usage:
6.1.1.2. https://www.youtube.com/watch?v=GS1xL1qcBa4
6.1.1.2.1. In this Ted Talk, Kevin Kelly defines technology as "anything useful invented by a mind" (TED, 2010).