Albert Einstein
by
Alex Cronin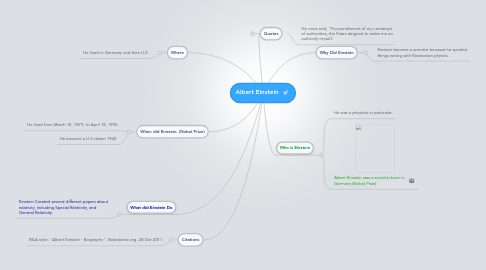 0.0
stars -
0
reviews range from
0
to
5
Albert Einstein
This is just a demo map that you can delete right away, if you feel like it...
Who is Einstein
He was a physicist in particular.
Albert Einstein was a scientist born in Germany.(Nobel Prize)
What did Einstein Do
Einstein Created several different papers about relativity, including Special Relativity, and General Relativity.
Citations
MLA style: "Albert Einstein - Biography". Nobelprize.org. 28 Oct 2011
When did Einstein. (Nobel Prize)
He lived from March 18, 1879, to April 18, 1955.
He became a U.S citizen 1940
Where
He lived in Germany and then U.S
Why Did Einstein
Einstein became a scientist because he spotted things wrong with Newtonian physics.
Quotes
He once said, "For punishment of my contempt of authorities, the Fates deigned to make me an authority myself.