THE LION KING (adaptación para teatro)
by pauliris trivillore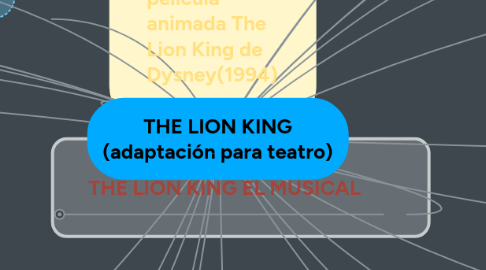 1. Musical basado en la pelicula animada The Lion King de Dysney(1994)
2. Repertório de la obra teatral musical ´´The Lion King´´
3. Versión de la producción Teatral en 8 idiomas
4. Producción Teatral a disponibilidad de franquicias internacionales
5. Casting de Actores, bailarines,cantantes y musicos
6. Captacion de vestuarista maquilladores, y peluqueros
7. Formación Dramatico Teatral para niños y niñas (semillero de talentos para el casting Lion King )
8. Talleres de teatro danza y coreogragia para la realización de las escenas de la obra de The Lion KIng.
9. Tour de la tras escena del obra Lion King.
10. Programa de educación para Colegios, en PRIMARIA Y en SECUNDARIA como herramienta que facilicia el aprendizaje de temas vinculados con el espectáculo y la obra.
11. THE LION KING EL MUSICAL
11.1. Ideas a partir la nesecidad de l montaje artistico
12. Gira de la obra Lion King a nivel Local, nacional e internacional.
13. Captacion de operadores, de luces, sonido y escenografia
14. Captacion de elaboradores de mascaras, marionetas,y utileria
15. Revistas , libros, posters sobre los personajes y la realizacion de la obra
16. Mercadeo a partir de la estetica temas, ambiente y personajes de la obra
17. Souvenires y assesorios sobre los personajes y las escenas de la obra
18. Talleres de realizacion de Mascaras
19. Clases de percusión africana
20. Talleres de creacion me marionetas y titeres
21. Conferencia psicologica al rededor de la folosofia del ´´circulo de la vida´´
22. Versión Minimizada de la obra adpatable a parque de diversión Disney
23. Bar temático VIP para compartir con los personajes de la obra durante el intermediodel espectaculo
24. Surge de la necesidad de mantener el equipo Artistico y Tecnico
25. Surge de la idea de comercializar la imagen del producto
26. posibilidades de proyeccion
27. posibilidades de formación a partir de la temática