Learning Theory : Ideas that attempt to explain a learners acquisition and retention of information.
by Wesley Shepherd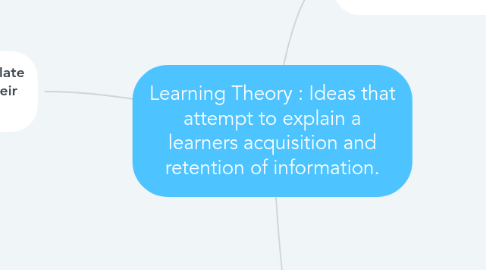 1. Behaviorism - Learning based on experience with regards to rewards and punishments.
1.1. 1. John B Watson introduced methodological behaviorism and popularized the use of scientific theory in behaviorism.
1.2. 2. B.F. Skinner developed operant conditioning (learning based on consequences).
1.3. 3. Edward Tolman introduced purposive behaviorism which sought to include the goals of the learner with respect to their environment. Differed from other behaviorists stimuli responses.
1.4. 4. Clark L. Hull founded drive theory which tried to determine future behavior based on previous reinforced behavior.
1.5. 5. Ivan Pavlov introduced classical conditioning.
2. Cognitivism - How an individual thinks determines how they will respond during learning.
2.1. 1. Howard Gardner is best known for his theory of multiple intelligences.
2.2. 2. Naom Chomsky began the cognitive revolution and is also called the "father of linguistics".
2.3. 3. Robert Gagne introduced his "Conditions of Learning".
2.4. 4. Charles M. Reigleluth developed the elaboration theory and the simulation theory.
2.5. 5. David Ausubel subsumption theory concluded that what a learner already knew had the most influence on their learning.
3. Constructivism - Learners relate what they are learning to their personal experiences.
3.1. 1. Jean Piaget was the first psychologist to make a systematic study of cognitive development.
3.2. 2. Ernst Von Glasersfeld developed radical constructivism.
3.3. 3. Seymour Papert used mathemathics to understand how children can think and learn.
3.4. 4. Etienne Wenger is a leader in the field of learning theory and its application in business.
3.5. 5. Reg Revans developed action learning.