Im A New Advocate What Do I Do Next?
by Brian Holland (Consutlant)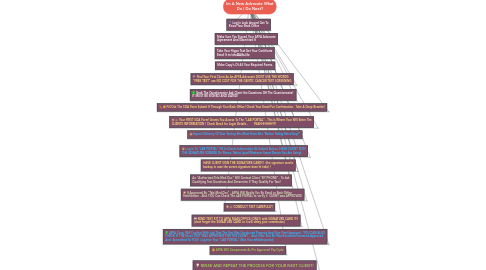 1. Log In Look Around Get To Know Your Back Office
2. HAVE CLIENT SIGN THE SIGNATURE CARD!!! (the signature card is backup in case the screen signature dose'nt take) !
3. Grab The Questionnaire Ask Client the Questions Off The Questionnaire! IT MUST BE SIGNED AND DATED!
4. RINSE AND REPEAT THE PROCESS FOR YOUR NEXT CLIENT!
5. AFFA Will Compensate As Per Approved Pay Cycle
6. AFFA Corp. Will Confirm With Lab That The Test Was Conducted Properly And Give Final Approval - YOU CAN ALSO CHECK IF THE Given TEST WAS APPROVED FOR THE CLIENT - And if the Test Kit Was Received,Processed,Approved And Accredited To YOU! Log Into Your "LAB PORTAL" (Not Your affiliate portal)
7. SEND TEST KIT TO AFFA MAIN OFFICE (ONLY) with SIGNATURE CARD !!!!! (dont forget the SIGNATURE CARD or it will delay your commission)
8. CONDUCT TEST CAREFULLY!
9. If Approved By "Tele-Med Doc" - AFFA Will Notify You By Email or Back Office Notification - Also YOU Can Check The LAB PORTAL to verify if CLIENT was APPROVED!
10. An "Authorized Tele-Med Doc" Will Contact Client "BY PHONE" - To Ask Qualifying Test Questions And Determine If They Qualify For Test!
11. Log In To "LAB PORTAL" Fill In Clients Information Hit Submit Button (HAVE CLIENT SIGN THE SIGNATURE SCREEN) On Phone, Tablet ,Ipad Whatever Smart Device You Are Using!
12. Expect Delivery Of Your Testing Kits Must Have Kits "Before Taking Next Step!"
13. Your FIRST SOA Form! Grants You Access To The "LAB PORTAL" - This Is Where Your Will Enter The CLIENTS INFORMATION ! Check Email for Login Details - YEAHHHHHH!!!!!
14. Fill Out The SOA Form Submit It Through Your Back Office! Check Your Email For Confirmation. Take A Deep Breathe!
15. Find Your First Client As An AFFA Advocate DONT USE THE WORDS "FREE TEST" use NO COST FOR THE GENTIC CANCER TEST SCREENING
16. Make Copy's Of All Your Required Forms.
17. Take Your Hippa Test Get Your Certificate Email It to [email protected]
18. Make Sure You Signed Your AFFA Advocate Agreement And Submitted It