Maddi Karp
by Maddi Karp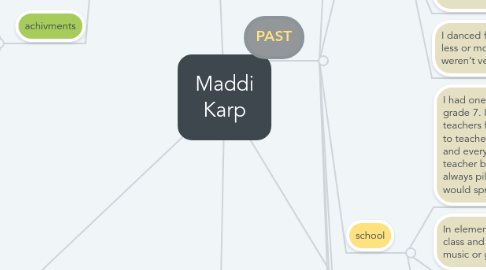 1. foods
2. slightly shy in certain situations, outgoing in some.
3. PAST
3.1. Activites
3.1.1. I played soccer when I was about 5 years old, I didn't enjoy it too much! I liked playing goalie though :) I eventually stopped playing soccer and transitioned to karate.
3.1.2. i Took karate lessons because my brother did and I wanted to be just like him! I started off as a white belt and eventually for my green belt. I had to stop playing because my dance got to intense and time consuming.
3.1.3. I did an art class with my friend Alexandra. We would sculpt art our of clay and then paint it, it was super fun. My dad came to class once and we made a frog which I still have :)
3.1.4. I used to take gymnastics lessons and I did it for quite a while, it was fun but I didn't enjoy the tumbling part of it. I'm a little bit of a scaredy-cat so I only liked certain things!
3.1.5. I took skating lessons but not for very long. I went about once a week and did it with my brother who is a really good skater. I never played hockey but I engineer skating.
3.1.6. A few summers ago I joined the burnaby rowing club and I did it for one summer. At first it was really fun but I didn't like it so much as I kept on doing it.
3.2. dance
3.2.1. I used to dance at Vancouver academy of dance but it was too far from my house to I started dancing at dance express. Dance express wasn't right for me because it was recreational which is fine but not what I was looking for.
3.2.2. I always was in recreational dance and could miss classes if I was busy. Dance wasn't my priority and I took other sports as well.
3.2.3. I LOVED tap soooo much, it was my favourite. I did it for a very long time as well!
3.2.4. I danced for three days a week sometimes less or more. When I took classes they weren't very long maybe 1-2 hours.
3.3. school
3.3.1. I had one teacher from kindergarten to grade 7. In grade 4-7 we actually swapped teachers for socials/science so I kind of had to teachers but it was still the same class and everything. I enjoyed having one teacher because tests and projects wouldn't always pile up because the one teacher would spread it out.
3.3.2. In elementary school I had art class, music class and gym! I loved art but I did not like music or gym.
3.3.3. I used to have buddies which are either a student that is older/younger than you. For example in kindergarten you would have a grade 7 buddy and in grade 7 you would have a kindergarten buddy. I didn't like buddy's when I was the older buddy because the little kids were so clingy!
3.4. personality
3.4.1. goofy
3.4.2. happy!
3.4.3. tried to learn new things
3.4.4. leader
3.4.5. stubborn
3.5. achievements
3.5.1. winning a speaking competition
3.5.2. honour roll/straight A's
3.5.3. getting accepted into the credit union
3.6. goals
3.6.1. to be a doctor
3.6.2. to cure cancer
3.6.3. to be a personal injury lawyer
4. PRESENT
4.1. dance
4.1.1. Poirier productions
4.1.2. extremely competitive
4.1.3. 5-7 days a week, minimum 20hrs a week
4.1.4. stage, lyrical & jazz are my favourite styles
4.2. school
4.2.1. 8 classes
4.2.2. 6 in school classes, 2 online courses
4.2.3. 2 spares to go to dance
4.2.4. 8 different teachers
4.3. activities
4.3.1. skiing
4.3.2. boating
4.3.3. dancing
4.3.4. online shopping
4.3.5. practice/experiment with makeup for fun
4.4. personality
4.4.1. confident
4.4.2. straightforward
4.4.3. smart
4.4.4. goal orientated
4.4.5. funny, sense of humour
4.4.6. organized
4.4.7. ambivert
4.5. achivements
4.5.1. straight A's
4.5.2. winning dance compeitions
4.5.3. having trustworthy friends and lasting friendships
4.6. goals
5. FUTURE
5.1. dance
5.1.1. a few days a week
5.1.2. drop in technique classes
5.1.3. recreational, not competitive
5.2. school
5.2.1. medical school
5.2.2. Harvard, UBC
5.2.3. high GPA
5.2.4. law school (backup)
5.3. Job
5.3.1. plastic surgeon
5.3.2. vancouver
5.3.3. own my own clinic
5.3.4. work 5 days a week (no weekends)
5.4. personality
5.4.1. strong
5.4.2. independent
5.4.3. acomplish goals
5.4.4. successful
5.4.5. positive mental health
5.5. achivments
5.5.1. completing medical school
5.5.2. successfully becoming a plastic surgeon
5.5.3. being happy and healthy!
5.5.4. have a pet corgi