Ivan Surjanovic: Creating WOW! Through Inspiration
by
Dan Taylor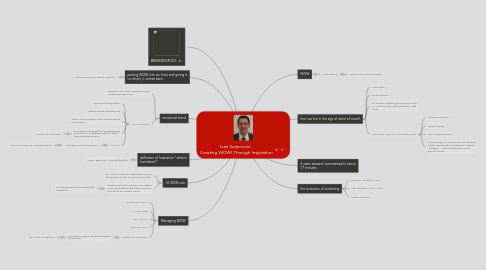 5.0
stars -
1
reviews range from
0
to
5
@WHEREISPUCK
WOW
viral marketing
first: we live in the age of word-of-mouth
social media
social capitalism
the secret to marketing success is no scret at all: Word of mouth is all that matters" - Seth Godin
one number to grow for future sales growth
4 years research summarized in about 17 minutes
putting WOW into our lives and giving it to others, it comes back
put a positive WOW attitude in your life
the evolution of marketing
prduction orientation (1950s)
sales orientation (1950's-1960's)
market orientation
emotional bond
shoppers emotionally connected to super market spent 46% more
WOW orientation
definition of frustration "what is frustration?"
means "spending a lot and getting little"
10-300% rule
Go 10% over customers' expectations and you will triple your chance to survive and succeed.
those business that have the 5 WOW factors were more profitable than other companies that did not have those 5 factors
Managing WOW
MISSION STATMENT
WOW! Credo
WOW! Policies
Measuring WOW!
Random acts of kindness