GROUPING STUDENTS
by Julissa Catalán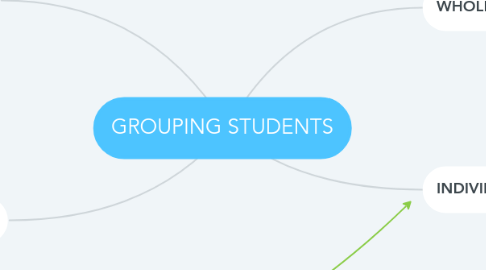 1. WHOLE-CLASS GROUPING
1.1. Seating in: Orderly rows- cricle and horseshoe- separate tables.
1.1.1. -In separate tables is more easy to arrange -Classes which are arranged in a circle make quite a strong atatement about what the teacher and the students believe in.
1.2. The teacher has the clear view of all the students and all the students can see the teacher.
1.2.1. variety in a sequence
1.3. It may not encourage students to take responsability fot they own learning.
2. INDIVIDUALIZED LEARNING
2.1. It allows teachers to respond to individual student differences in terms of pace of learning styles and preferences.
2.2. It doesn´t help a class develop a sense of belonging. It doesn´t encourage cooperation in which students may be able to help and motivate each other.
3. PAIRWORK
3.1. Students can practice language together, study a text or compare notes.
3.1.1. task
3.1.2. keep monitoring the pair or group
3.2. It allows teachers time to work with one or two pairs while the other students continue working.
3.2.1. ORGANIZE FEEDBACK
3.3. Pairwork is frequently very noisy and some teachers and students deslike this. Teachers in particular worry that they will lose control of their class
3.3.1. friendship
4. GROUPWORK
4.1. Teachers can put students in larger groups, in general, it´s possible to say that small groups of around five students porovoke greater involvement and participation.
4.2. It promotes learner autonomy by allowing students to make their own desitions in the group without being told what to do by the teacher
4.2.1. task
4.2.2. finish first than other groups
4.2.3. awkward groups