SECURITY POLICIES AND PROCEDURES
by Hyuga Thanesh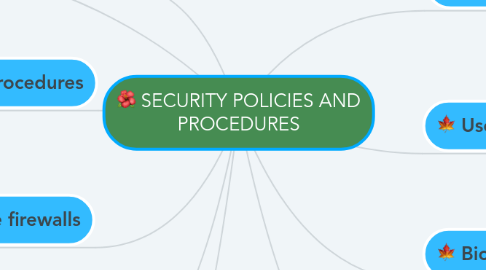 1. Permission levels are configured to limit individual or group user access to specific data.
2. Security Policy
2.1. A security policy is a written document that states how an organization plans to protect the company's information technology assets.
3. Usernames and Passwords
3.1. A username and password are two pieces of information that a user needs to log on to a computer.
4. File and Folder Permissions
5. Security Procedures
5.1. Procedures are detailed step-by-step tasks that should be performed to achieve a certain goal
6. Software firewalls
6.1. A software firewall is a program that runs on a computer to allow or deny traffic between the computer and other computers to which it is connected.
7. Biometrics and Smart Cards
7.1. Biometric devices, which measure physical information about a user, are ideal for highly secure areas when combined with a secondary security measure such as a password or pin
8. Data Backups
8.1. A data backup stores a copy of the information on a computer to removable backup media that can be kept in a safe place
9. Data Encryption
9.1. Encryption is where data is transformed using a complicated algorithm to make it unreadable
10. Protection Against Malicious Software
10.1. You should run virus and spyware scanning programs to detect and remove unwanted software