5CLD Wk 1 No two are the same
by Fran H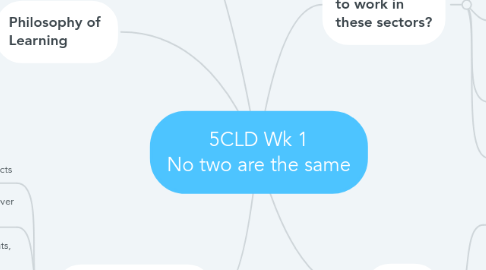 1. My organisation: Cranfield University
1.1. Production focus: service with products
1.2. Age: dates from 1946. Mature but ever changing, not always with clarity
1.3. Client focus: b2b (contracts), b2c (students, researchers)
1.4. Ownership: PG University, public
1.5. Delivery: campus, in the field, overseas; face to face / online / blended; part and full time; asynchronous and synchronous
1.6. Reach: very much global
1.7. Evolution: aspiration for adaptive, pace of change can be slow though
2. What's it like to work in these sectors?
2.1. Finance: constant change and need to innovate, customer interaction esp digital / social media. Need to evidence L&D, tracking and monitoring, effectiveness
2.2. Public: restrictions on procurement / recruitment, public scrutiny and accountability, wide variety of settings in esp larger organisations. Flexible learning solutions, approaches to learning, compliance, regulatory.
2.3. Retail: issues in access for staff to training, need for knowledge of product range, digital needs, ROI. Anytime anywhere learning, BYOD and accountability
2.4. Hospitality: operational needs, duration, also in my experience staff turnover. 70-20-10, tracking, career progression.
3. The Golden Thread
3.1. Mission statements! Need to be meaningful and of value. What is it to be part of the family that is X organisation, that makes it different from others?
4. Philosophy of Learning
4.1. A belief system. WHY? How do you think about learning? Importance of the organisation's (and I believe your own), communicating and justifying that clearly to the participants in your learning to gain engagement.
4.2. WHY / WHAT / WHO FOR / WHEN / WHERE / HOW. Always WHY first though, in my opinion.
5. Live Session
5.1. Oh boy, did I find this absorbing.
5.2. Things I want to look into more deeply: - Henry Mintzberg's 5 structural configurations - Frederic Laloux's work on reinventing organizations - Case study on Zappos shoe manufacturers? - Find a copy of The Human Workplace, as I think it's going to help me a lot in ultimately moving across to L&D from my current role(s) - See if I can find a funky summary of analytical tools. Also to look up the one I found on learning theories, as I think the group will like it too!