The Learning Community
by Shikha Ahuja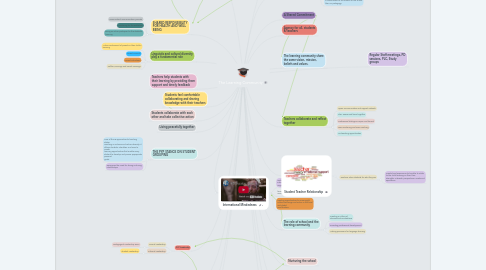 1. A commitment to collaboration
1.1. Common goal in supporting the transdisciplinary learning
1.2. Collaborative approach may vary in response to the local context and the needs of the learning community, and will always be based on a commitment to the mission of the IB and the PYP pedagogy.
2. A Shared Commitment
3. Agency for all- students & teachers
4. SHARED RESPONSIBILITY FOR HEALTH AND WELL BEING
4.1. Home school communication journals
4.2. Mentoring for the Exhibition
4.3. Being an active participant in the students' learning
5. Living peacefully together
6. Linguistic and cultural diversity play a fundamental role
6.1. Active involvement of parents in their child's learning
6.2. Parent councils
6.3. Parent volunteers
6.4. Coffee Mornings and Parent evenings
7. Teachers help students with their learning by providing them support and timely feedback
8. The learning community share the same vision, mission, beliefs and values.
9. Students feel comfortable collaborating and sharing knowledge with their teachers
10. Teachers collaborate and reflect together
10.1. Open communication and support network
10.2. Plan, assess and learn together
10.3. Professional dialogue is open and honest
10.4. Peer mentoring and Peer coaching
10.5. Co-teaching oppurtunities
11. Students collaborate with each other and take collective action
12. Regular Staff meetings, PD sessions, PLC, Study groups
13. A Commitment to Inclusion
13.1. Teachers extend learning for all students by creating an affirmative and responsive environment that considers student identities and embraces learner diversity from a strength-based perspective.
13.2. Sharing responsibility and providing equal oppurtunities.
13.3. Inclusive support structure takes into consideration: Confidentiality, agency and self efficacy,a deeper understanding of learning differences
13.3.1. The impact of labelling students
13.3.2. Clearly stated policies
14. The commitment to Health and Well Being
14.1. Promote the importance of agency: voice, choice and ownership
14.2. Develop resilience to face challenges and change
14.3. Nurture positive mental health and well being
14.4. Identifying psychological barriers preventing students' learning
14.5. Recognize the need for strong nurturing experiences
15. THE PYP STANCE ON STUDENT GROUPING
15.1. One of the IB approaches to teaching states: Teaching is inclusive and values diversity. It affirms students' identities, and aims to create learning opportunities that enable every student to develop and pursue appropriate personal goals.
15.2. Recognize the need for strong nurturing relationships
16. Student Teacher Relationship
16.1. Teachers value students for who they are
16.1.1. Create lived experience to be able to relate to the child focusing on their their strengths, interests, perspectives, needs and aspirations
17. International Mindedness
17.1. embracing multilingualism to enhance intercultural dialogue and global engagement.
17.2. focusing student inquiries on global human commonalities
17.3. creating opportunities for meaningful cultural exchange and action in the local and global communities
18. The role of school and the learning community
18.1. Creating a culture of international-mindedness
18.2. Providing professional development
18.3. Making provisions for language learning
19. PYP leadership
19.1. Formal Leadership
19.1.1. Pedagogical Leadership Team
19.2. Informal Leadership
19.2.1. Student Leadership
20. Nurturing the school
21. Cultivating the Environment
22. COLLABORATION
22.1. Effective environment for Trans-disciplinary learning
22.1.1. Collaboration between grade level and subject level teachers
23. Learning Environment
23.1. Resources
24. Technology in the PYP
25. WHAT"S CHANGED? WHATS NEW??
25.1. Key Concepts
25.2. STAND ALONE SCIENCE AND SOCIAL STUDIES
25.3. http://blogs.ibo.org/sharingpyp/files/2018/02/2018-January-Learning-teaching-part-1-ENG.pdf
26. Sources: https://resources.ibo.org/pyp/framework/The-PYP-Framework/?c=9ca275f2